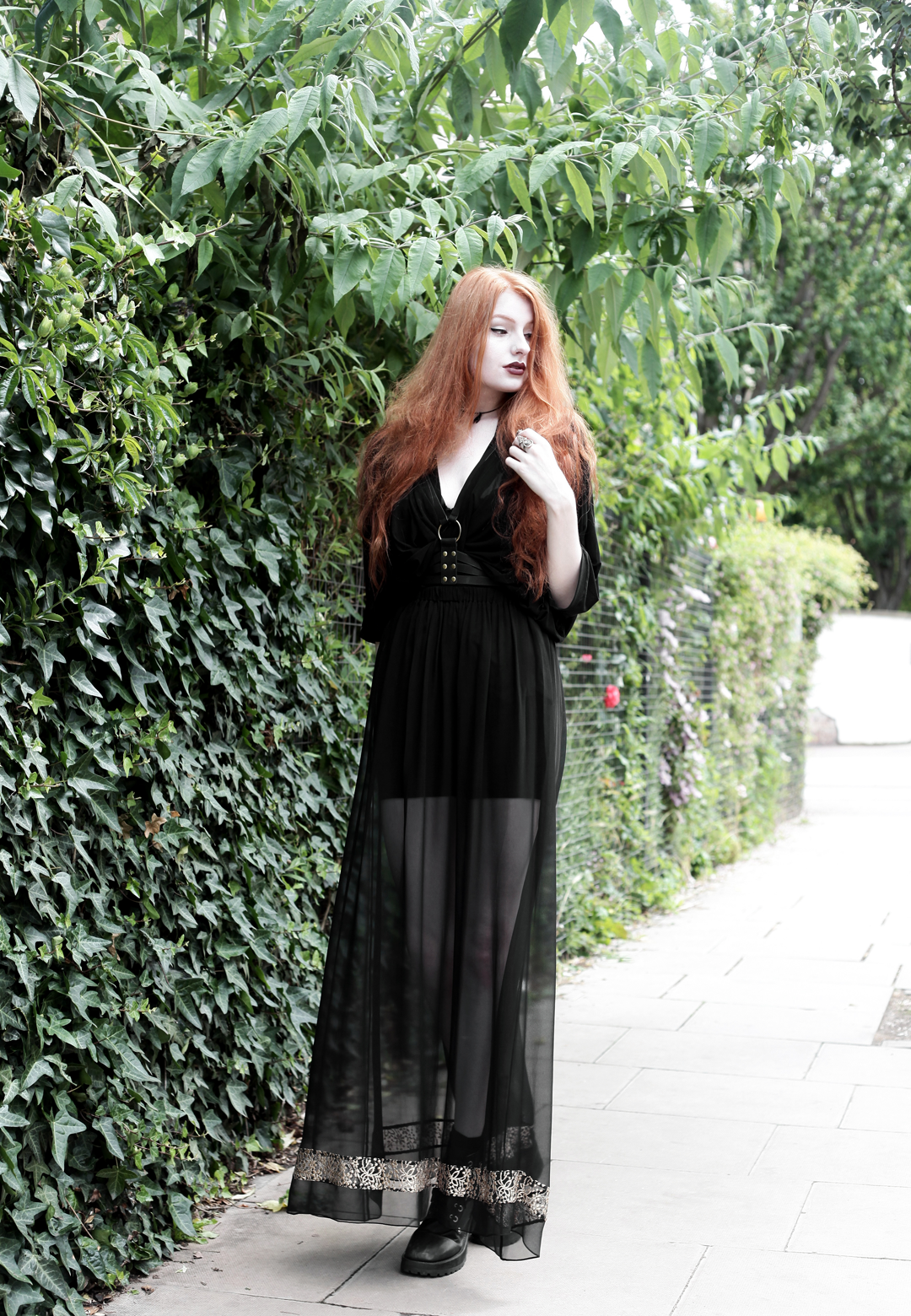 Matte Black 'Rhea' Crescent Moon Choker* – The Rogue + The Wolf
Shadow Mesh Draped Tunic Top* – Killstar
Harness – Asos (sold out – similar)
'Chastity' Lace Insert Sheer Maxi Skirt* – Dark Thorn Clothing 
Dedi Boots – UNIF
Summer evening meals out during a heatwave call for something floaty, yet fancy (I cannot stand being overheated!). This is just a little evening outfit I put together the other day based around this gorgeous Dark Thorn Clothing sheer maxi skirt, that's suitable for a summer date night at a lovely restaurant.
As you can imagine, black maxi skirts (especially sheer ones!) are a huge part of my summer wardrobe – one of my staple daytime outfits is a black sheer maxi skirt dressed down with a band tee, and a denim jacket thrown over the top. However this maxi is something a little different – I like to think of it a black maxi skirt after dark. It's 100% sheer silk (which is gloriously soft), and the beautiful golden lace insert adds the perfect contrast & creates a lovely golden flutter as I walk! I gushed about the quality of my Dark Thorn pieces in my previous post, and this piece is definitely no exception (and Tori-Anne is a wonderful independent designer – she recently unveiled the new Dark Thorn collection, which is every bit as stunning as the last!).
To style the skirt up, I tucked a sheer top of a similar texture into the waist, and then allowed it to drape over a harness to add a little evening-friendly Grecian twist on my usual all-black outfit combinations. I threw on some heeled boots as we were going to be walking down the road and I wanted to be comfy, but this outfit looks awesome with heeled sandals! As a final touch I added a dark lip and delicate choker, then I was ready to go!
Thank you so much for stopping by to take a peek at my outfits and read my ramblings! It really does mean a lot 🙂 Is there anything you guys would like to see from me? A certain kind of outfit, or maybe a completely different kind of post? Let me know!
Love xxx