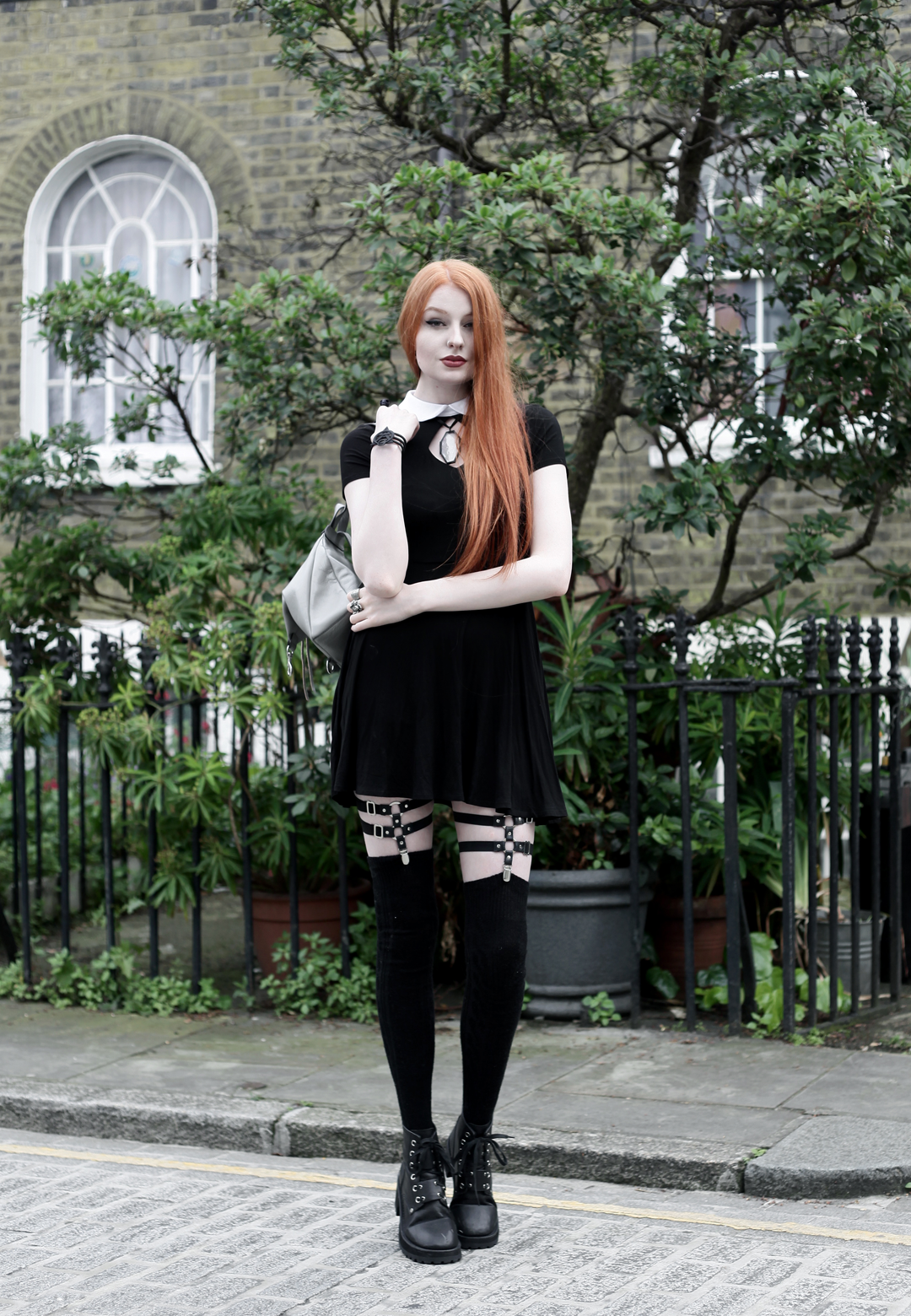 'Bad Habits' Cut Out Skater Dress* – Killstar
'Mourner' Pressed Flower Necklace* – Regalrose
Biker Jacket – Boyfriend's (Similar)
3d Printed Matte Black Bracelet* – The Rogue + The Wolf 
'Peek-a-boo' Garter Thigh Harnesses – Jakimac
Mini 'Julian' Backpack – Rebecca Minkoff
Thigh High Socks – Asos
Dedi Lace Up Boots – UNIF
Don't you just love it when pieces from your wardrobe align perfectly? While I was choosing accessories to pair with my gorgeous new Killstar 'Bad Habits' dress, I realised that this beautiful necklace sits perfectly in the cut-out section of the dress – it felt meant to be! Do you have any pieces in your closet that were made for each other?
Framing a pressed flower, this sweet Regalrose choker originally came with a delicate cherry blossom between the glass panes. My plan is to change up the flower from time-to-time – for this outfit I used a sprig of heather, but I also want to try Forget-Me-Nots and little Rosebuds 🙂
As you'll see from the pictures below, while we were out shooting these pictures an adorable kitty crossed our path. She was so incredibly affectionate and wanted to be the centre of the shoot – though I do wonder what happened to her ear, the poor thing. I've actually seen her quite often since, while on my way home from work! She's always so quick to nuzzle against my ankles as I get close, though she has become slower and larger, rarely moving far from the porch she sits in… so I think she could be pregnant (eee, yay for baby kitties)!
Anyway, I hope you guys have been keeping well recently! Thank you so much for stopping by to take a peek at my blog – it means the world. I know I've been a little slow to update here recently (as work has been more on the hectic side than I'd like), but I think I have a good plan for balancing work and my blog inthe future. I'll be sure to share it with you guys if it works, if you'd like?
Take care, and have a wonderful weekend! Love xxx