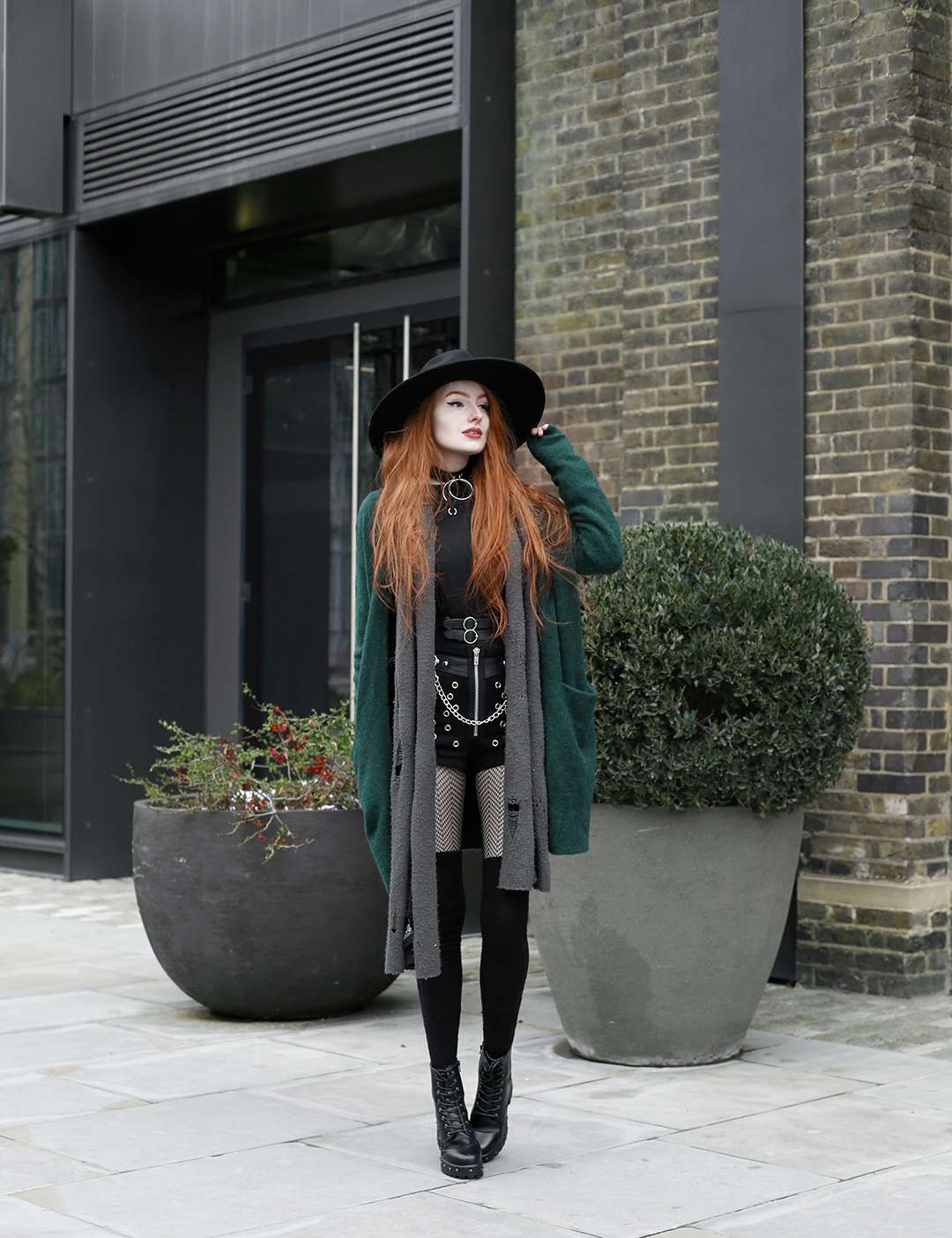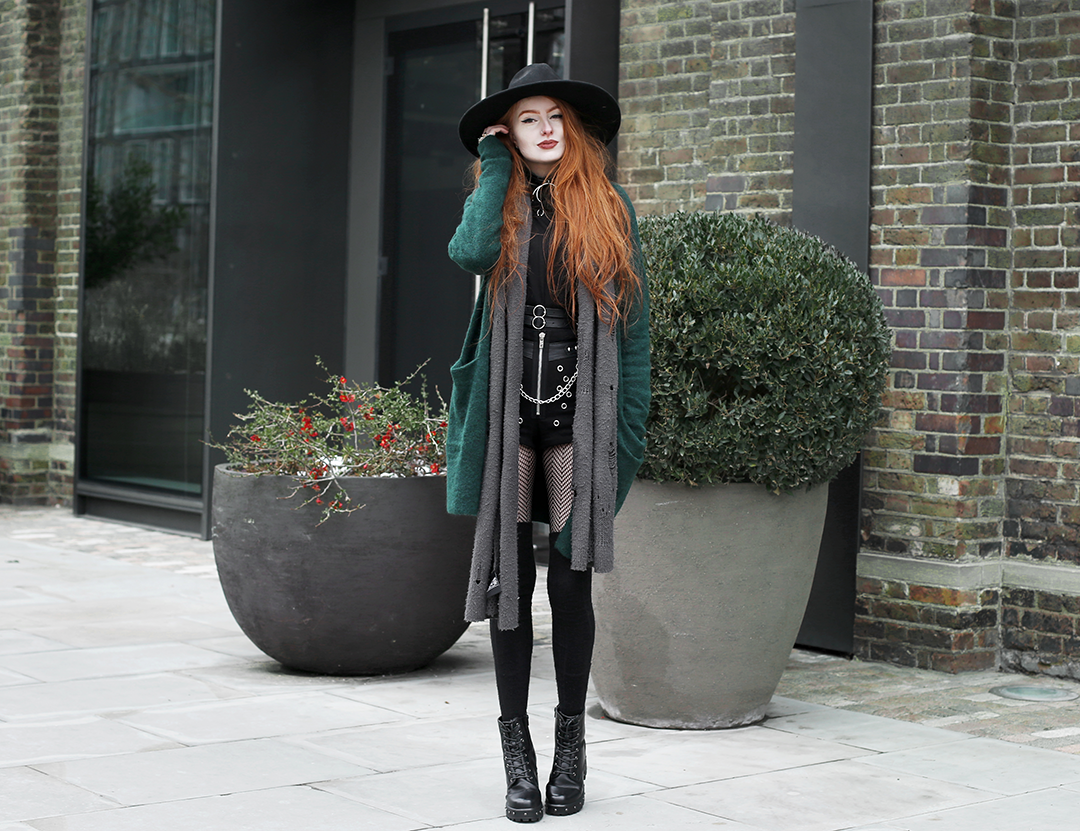 What I'm Wearing:
'Witch Brim' Fedora Hat – Killstar
Double O-Ring Choker – Killstar
Grey Distressed Scarf – Killstar
Oversized Green Cardigan – & Other Stories (sold out – similar 1 & 2)
Oversized Piercing Detail Top – Asos (sold out – similar)
Double Buckle Belt – Similar
Chain Detailed Studded Shorts – Tripp NYC (similar)
Zig-Zag Fishnets – Similar
Over Knee Socks – Asos
Studded Boots* – Koi Footwear
Photography by Rosemarie Cruz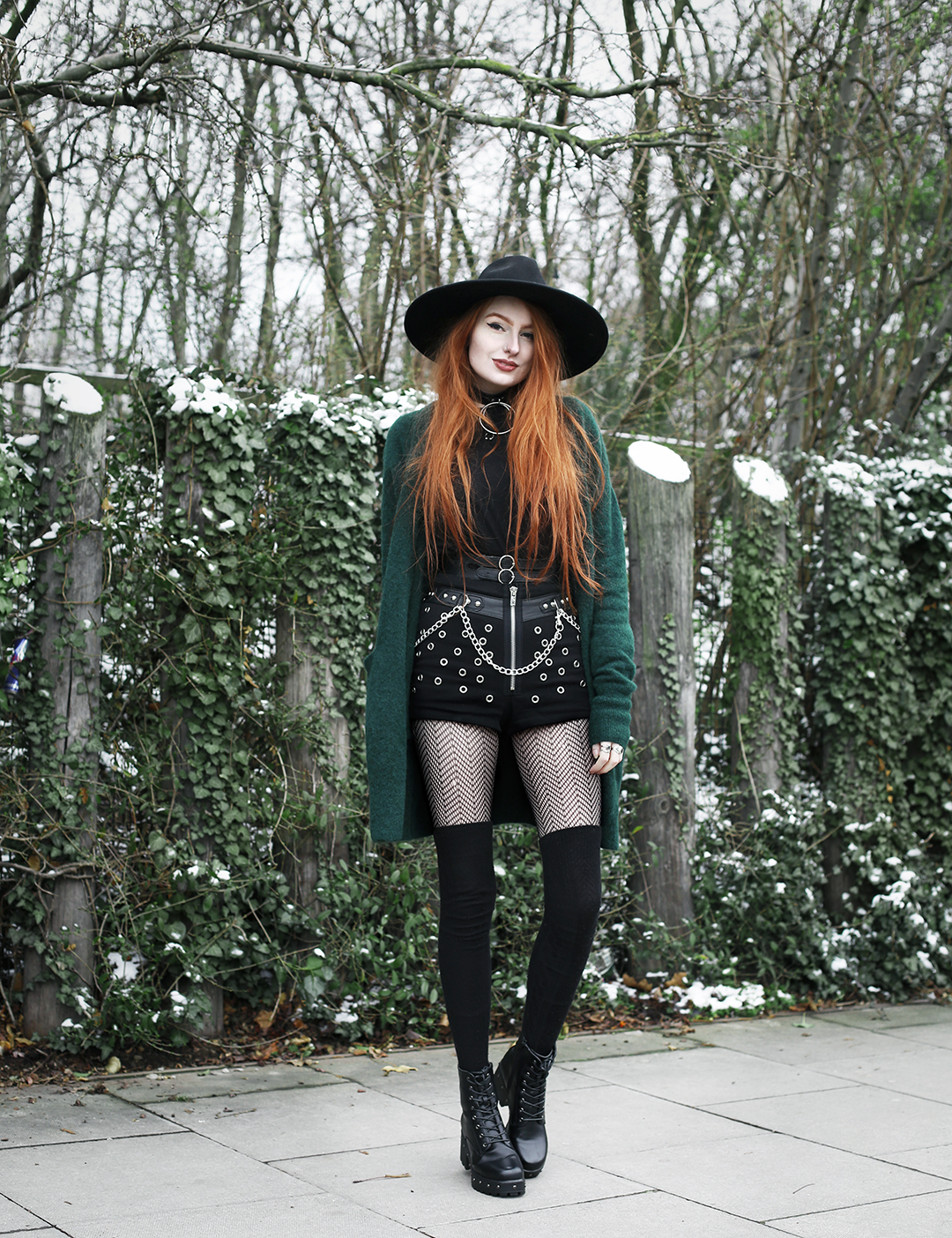 Studded Shorts & Studded Shoes
We shot these pictures last weekend, after the last snowfall was started to melt away. I know I might seem a little odd wearing shorts in a snowy backdrop, but I promise I was suitably layered up! I picked up these gorgeous studded shorts in the Asos sale about a month ago in anticipation of Spring. But… as you can tell from the pictures we're still waiting here!
I couldn't keep waiting for warmer temperatures to style up these beauties, so I decided to layer up a winter outfit… in March (insert eye roll here). It's another one of my 'secret layer' specials – there's a thermal top under my main top, and sheer tights under the fishnets. Add on some cosy knits on top of that (and a coat that isn't pictured, ha), and I managed to pull together a vaguely warming outfit styled around my new shorts!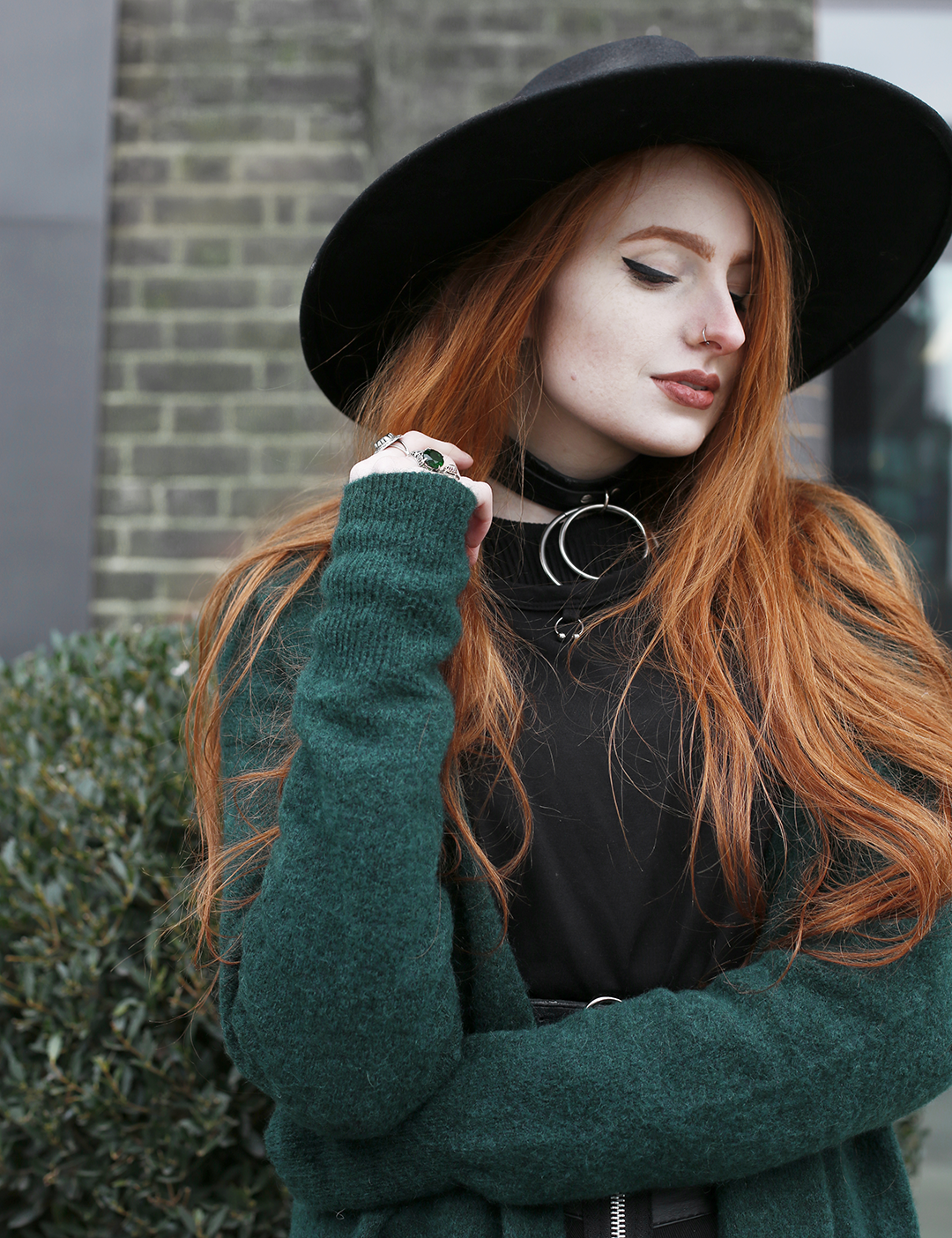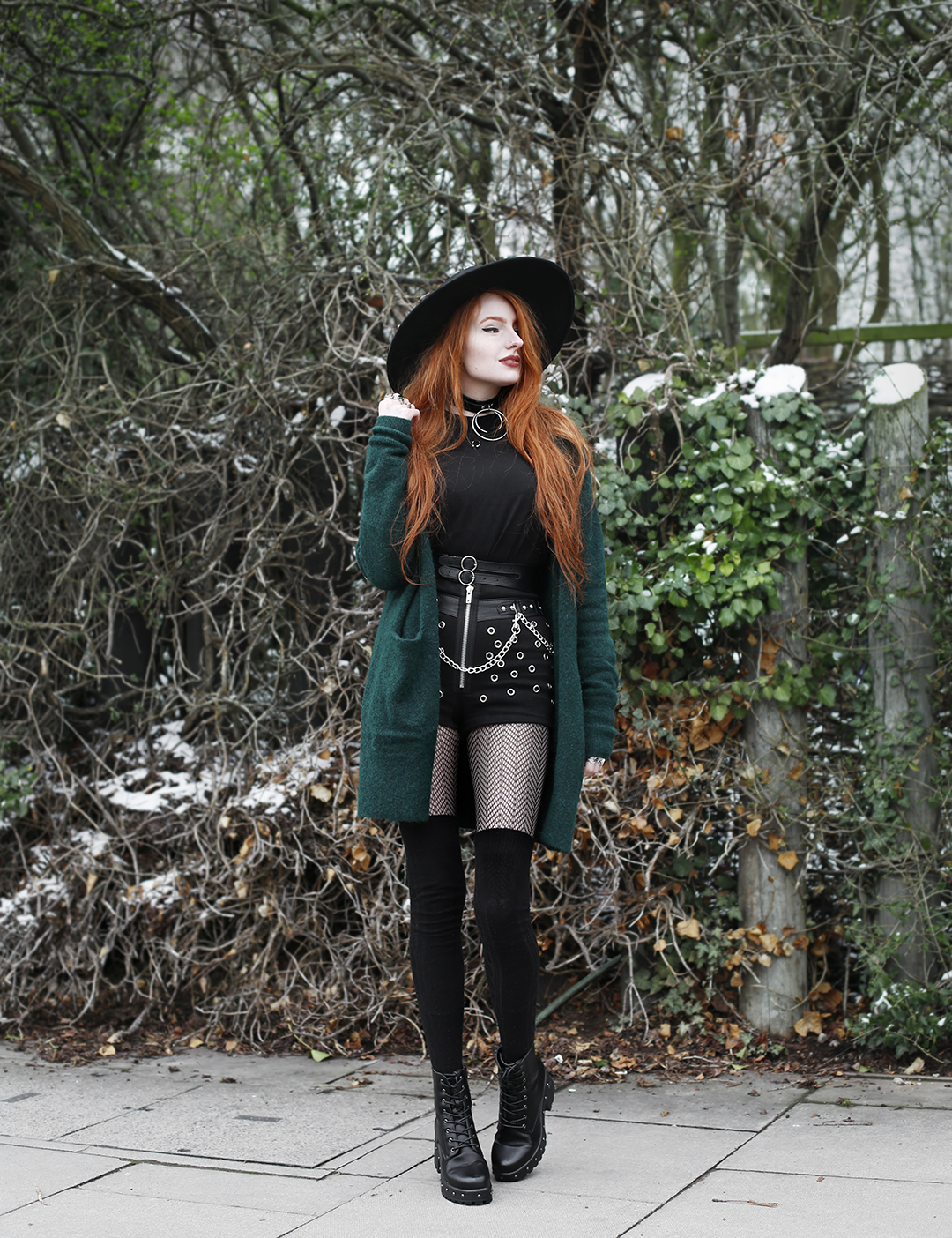 When putting together this outfit I found that my new studded sole boots matched perfectly with the shorts. I'm such a magpie for studded pieces, I've got so many spiked and embellished items gathered in my wardrobe! Sometimes they can be a bit much paired together but the boots are just subtle enough to go with the statement shorts!
Do you have any embellishments or design aspects that draw you to pieces clothing? For me it's definitely studs and chains!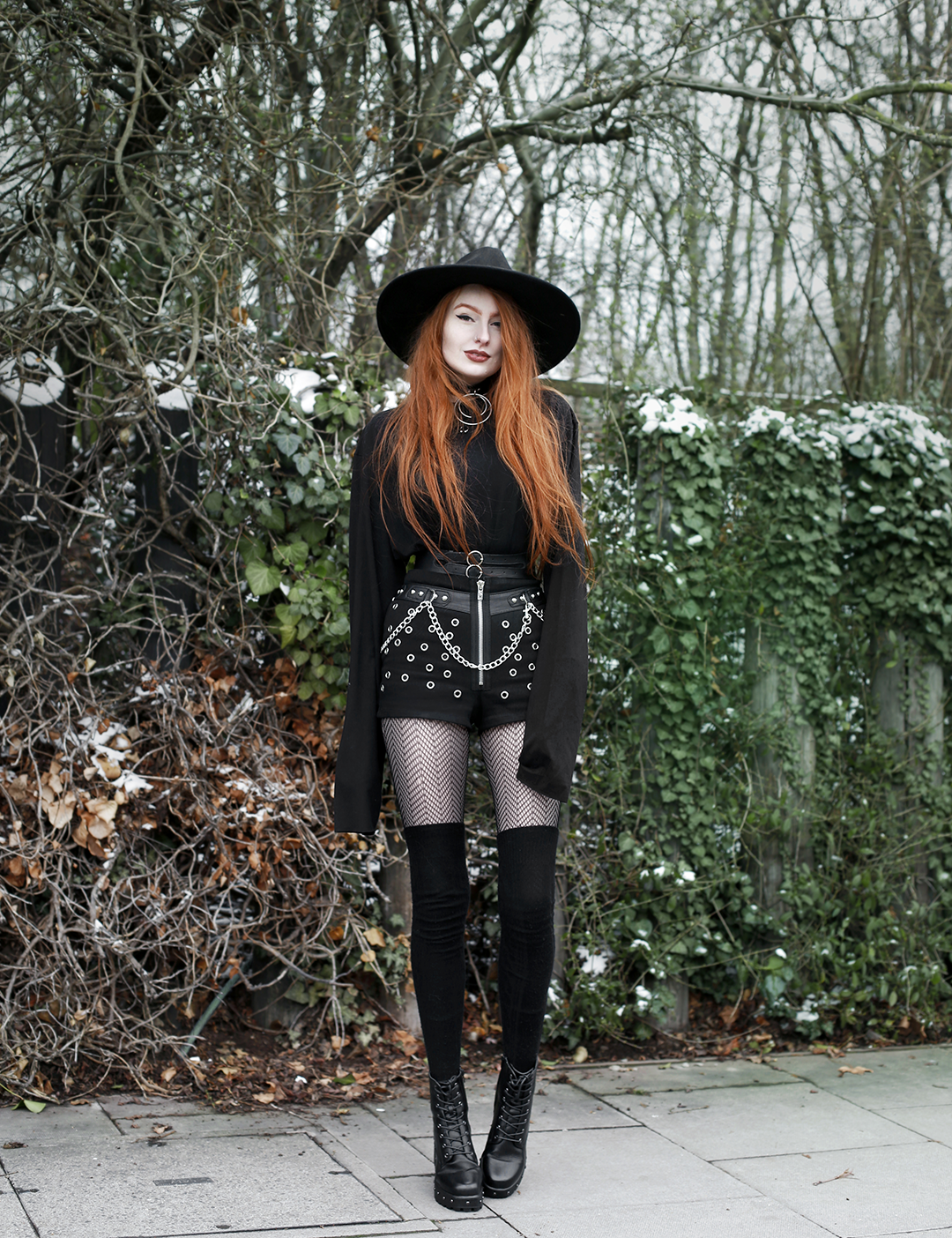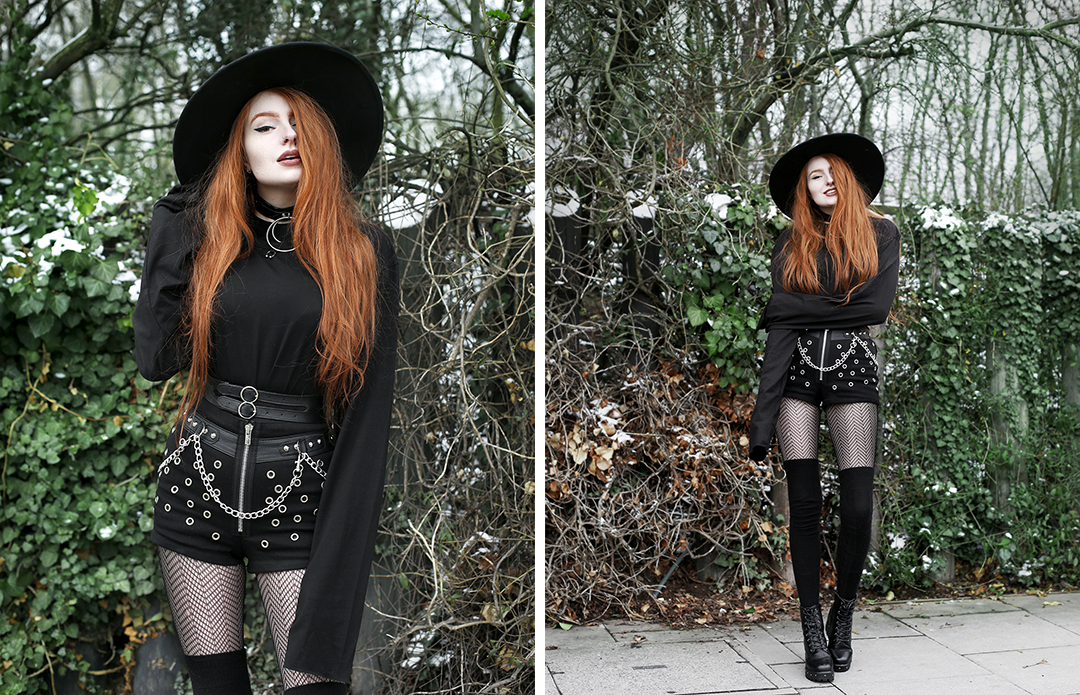 I'm also loving the oversized-ness of this top – it's perfect for my secret layering, but also looks cute with a tee layered over the top! Plus I adore the super-cute 'sweater paws' look – especially as my arms are so long that I never usually get them, haha (curse my long proportions!)
Signing Off (and a Quick Farewell to a Fave <3)
Thanks so much or stopping by to read my rambling as always! I'm signing off for now, but I'm going to leave you with this shot Rosie got of me when it was getting super cold – she is the only person who has managed to make a red nose look okay on me!
Shooting with her is always an absolute joy. There's pictures of me smiling in this post because she is just such a wonderful ray of sunshine, and always cracking me up! So yeah, not only is she a great photographer, shes also an incredible friend. I'm absolutely gutted she is moving back to Aus in the middle of April – but of anyone needs an amazing photographer round Sydney way please do hit her up! I cannot recommend her highly enough <3
(Rosie if you're reading this holy shit I am gonna miss you)