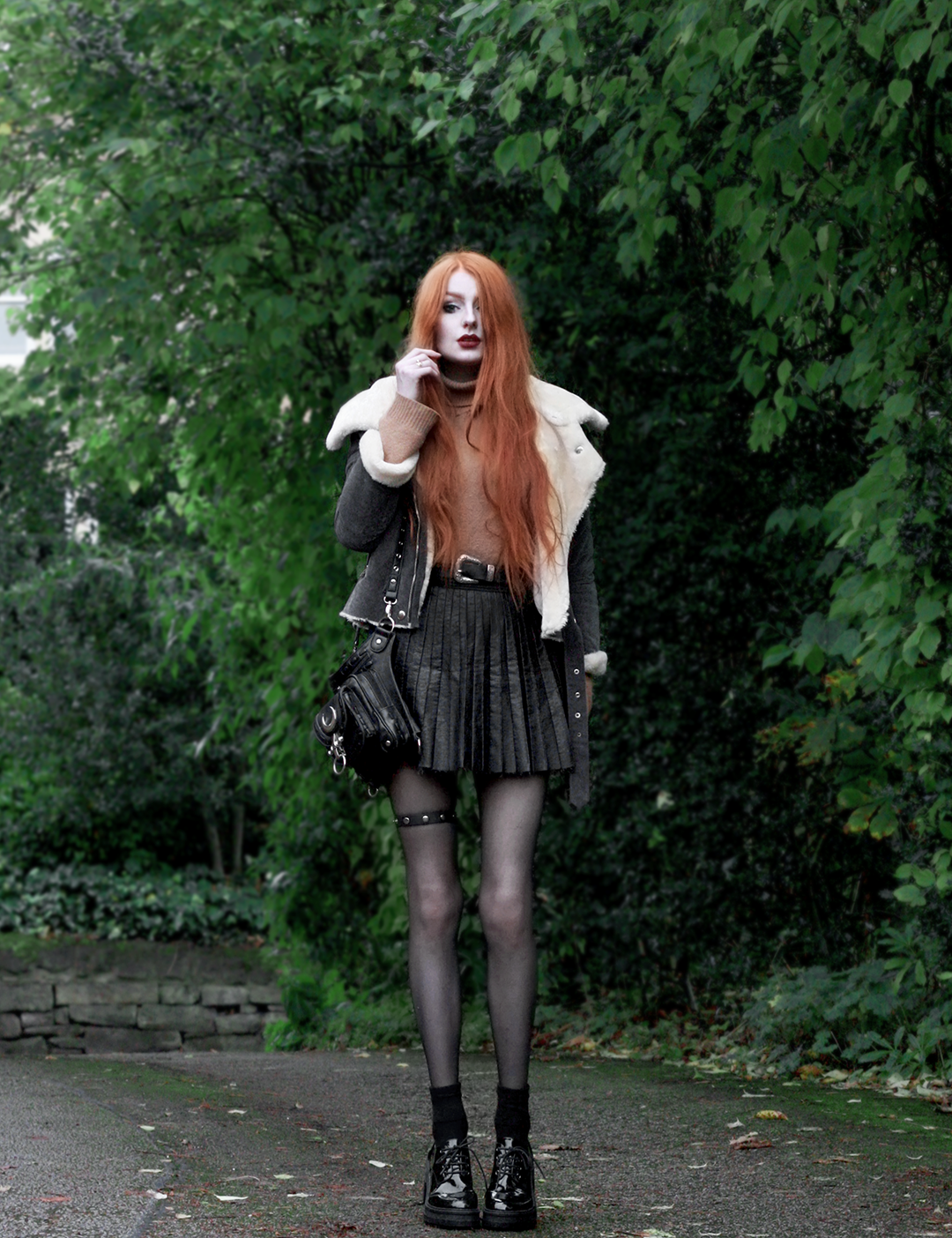 What I'm Wearing:
Aviator Jacket – Super Old (Similar – and on sale!)
Vintage Roll Neck Sweater – Dad's (Similar)
Vintage Moschino Sunglasses – Mum's (Similar)
Western Style Belt – Asos
Pleated Vegan Leather Skirt – Old (Similar)
Lunar Holster Bag* – Restyle
Leg Garter – DIY
Sheer Black Tights – Asos
Patent Chunky Lace Up Heels- Asos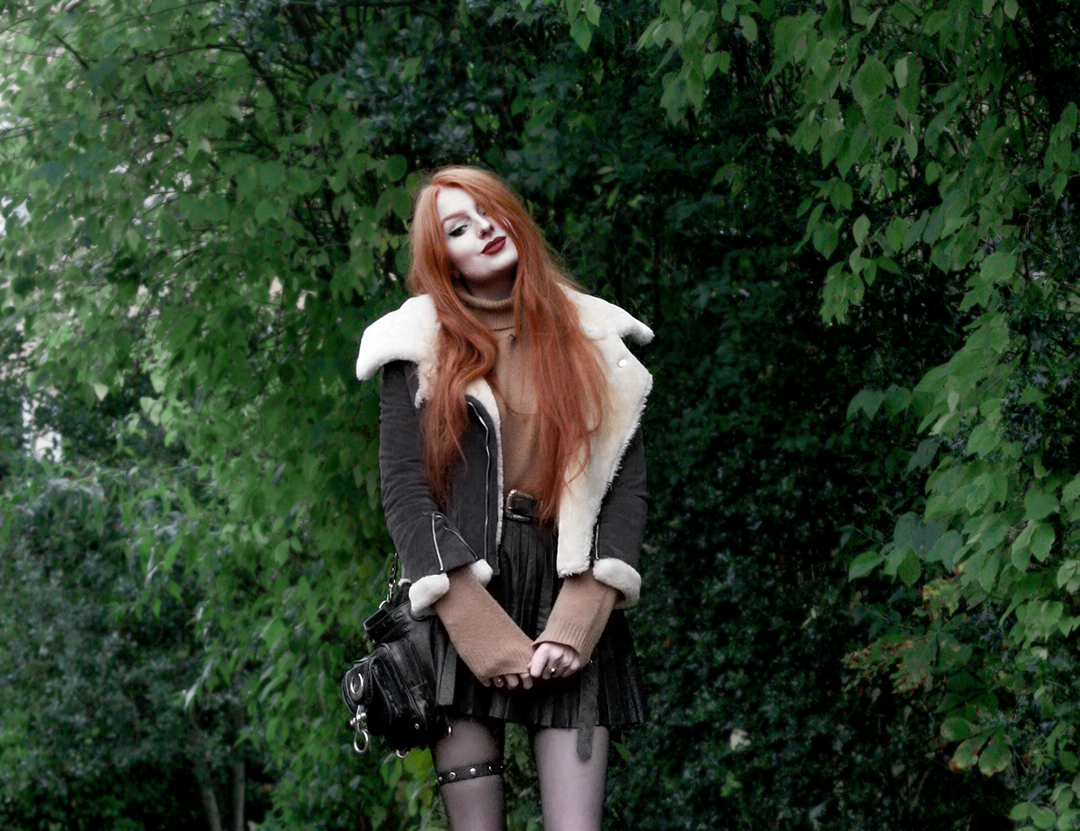 I Got It From My Momma (…and also my Dad)
Awful subtitle I know (sorry) – but this little outfit is a built using a couple of pieces from my parents' wardrobe!  I then paired with them with my own stuff to make the look more 'me'.
The jumper belonged to my Dad – he gave me it when I was about 16 and going through my DIY EVERYTHING phase. As a consequence, you may be able to see a small hole at the bottom of the turtleneck. It seems Teenage Olivia had a brief moment of thinking that this roll neck sweater would look way better without the neck. I had even cut into it before realising the error of my ways! While I'm glad that I did stop merrily chopping away at this poor jumper, I just wish I hadn't made that cut. Ah well  – adds to the character I suppose.
The sunglasses were my Mum's; we found them while tidying cupboards out when I was back home in September. They've lived in my bag ever since – still yet to see the light of day so much because, y'know… Winter.
That said, when I do wear them & someone asks where they are from, being able to say that they're Vintage Moschino (dahhh-ling) sure does make me feel way fancier than I have any right to be. …which is why I usually follow that up with "they're my Mum's, she let me steal 'em" haha >.<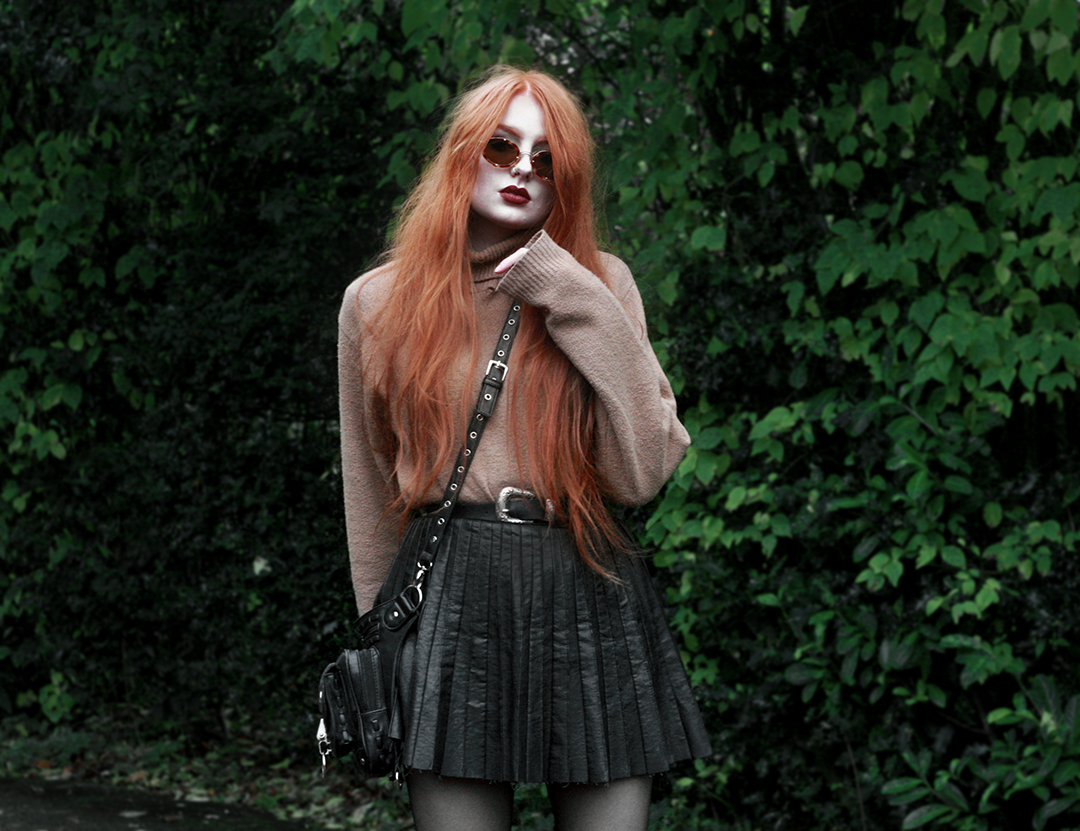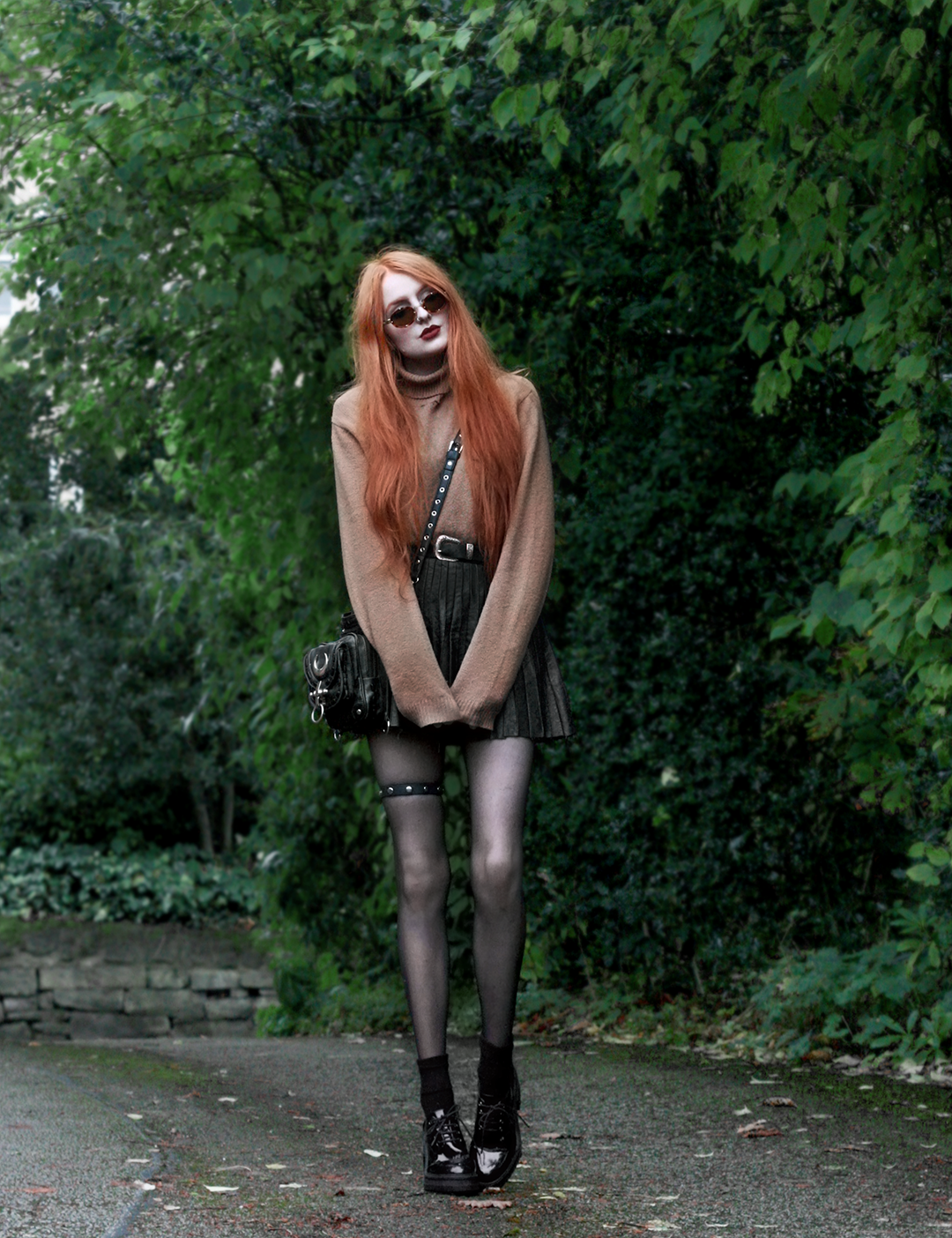 Putting My Own Spin On Things
With pieces from both of my parents that compliment each other so well, I wanted to build an outfit around them, and make the look more 'me'.
Safe to say I am probably the only member of my family with a leg harness (I think?! Haha). I actually made this one out of an old broken choker. It fits because each metal circle you see is a popper, so the length is incredibly adjustable – no way in HELL something that fits around my neck would fit around my leg!
The jacket in these pictures was super-cute, super-cosy but also super-tiny. I've since donated it because it's so small on me (curse my long arms and tall frame!). It was one of the warmest jackets that I owned… just a little tricky to move in, especially with jumper underneath!
I miss it from my wardrobe already, so am on the hunt for a new (hopefully better fitting) aviator-style jacket – if you have any recommendations please pass them on! I'm quite tempted by the similar option that I linked above as it's down to £26 in the sale, but I don't know if the lining colour will work as well on me…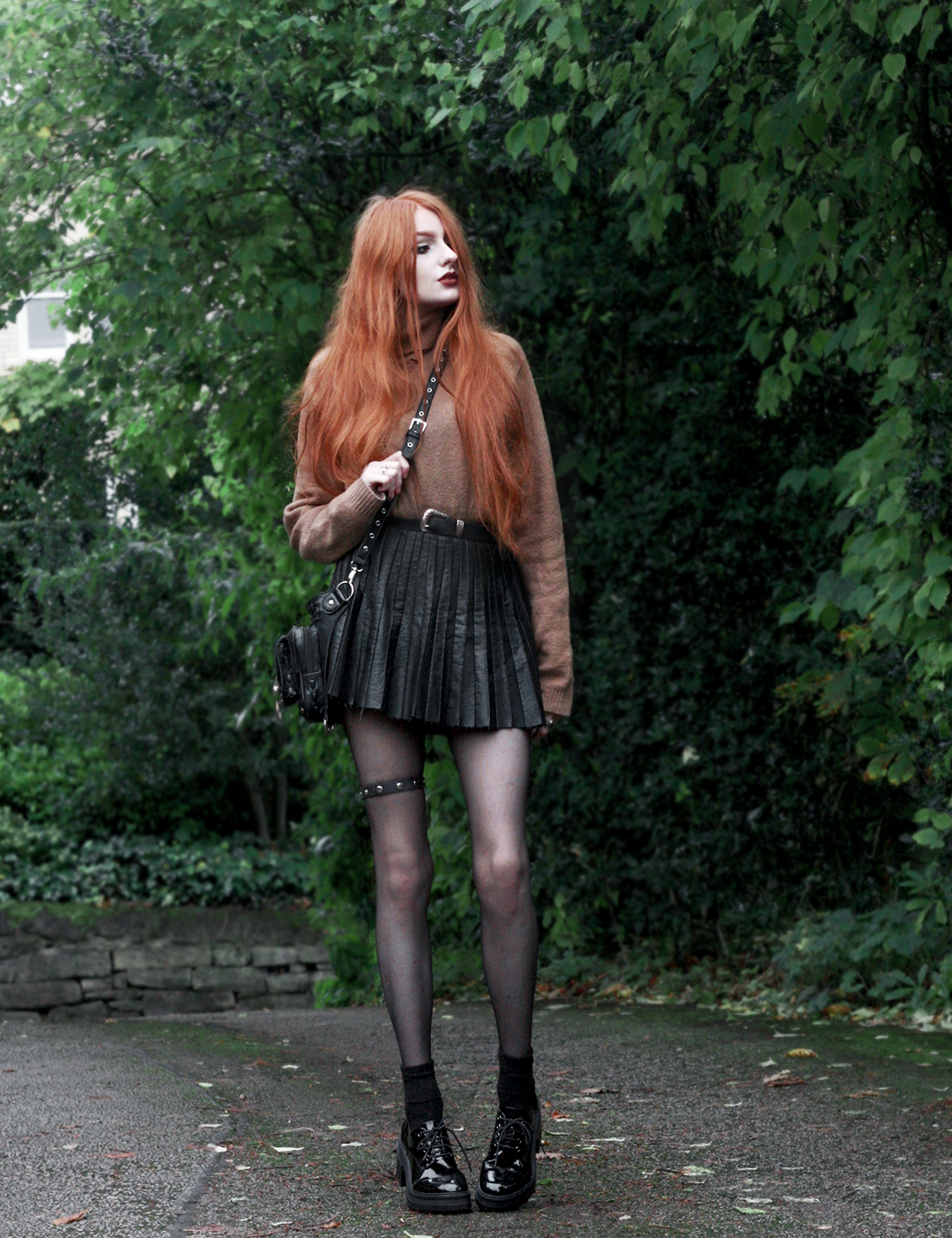 Have you ever raided your parents' wardrobe for some vintage goodies? Or maybe you share your newer clothes too? Or is your style perhaps is completely different to that of your family? Let me know in the comments! ^.^
Thanks so much for stopping by to read my ramblings and have a look at what I'm wearing  – it means so much to me. Take care, and have a wonderful day!
Love!xxx