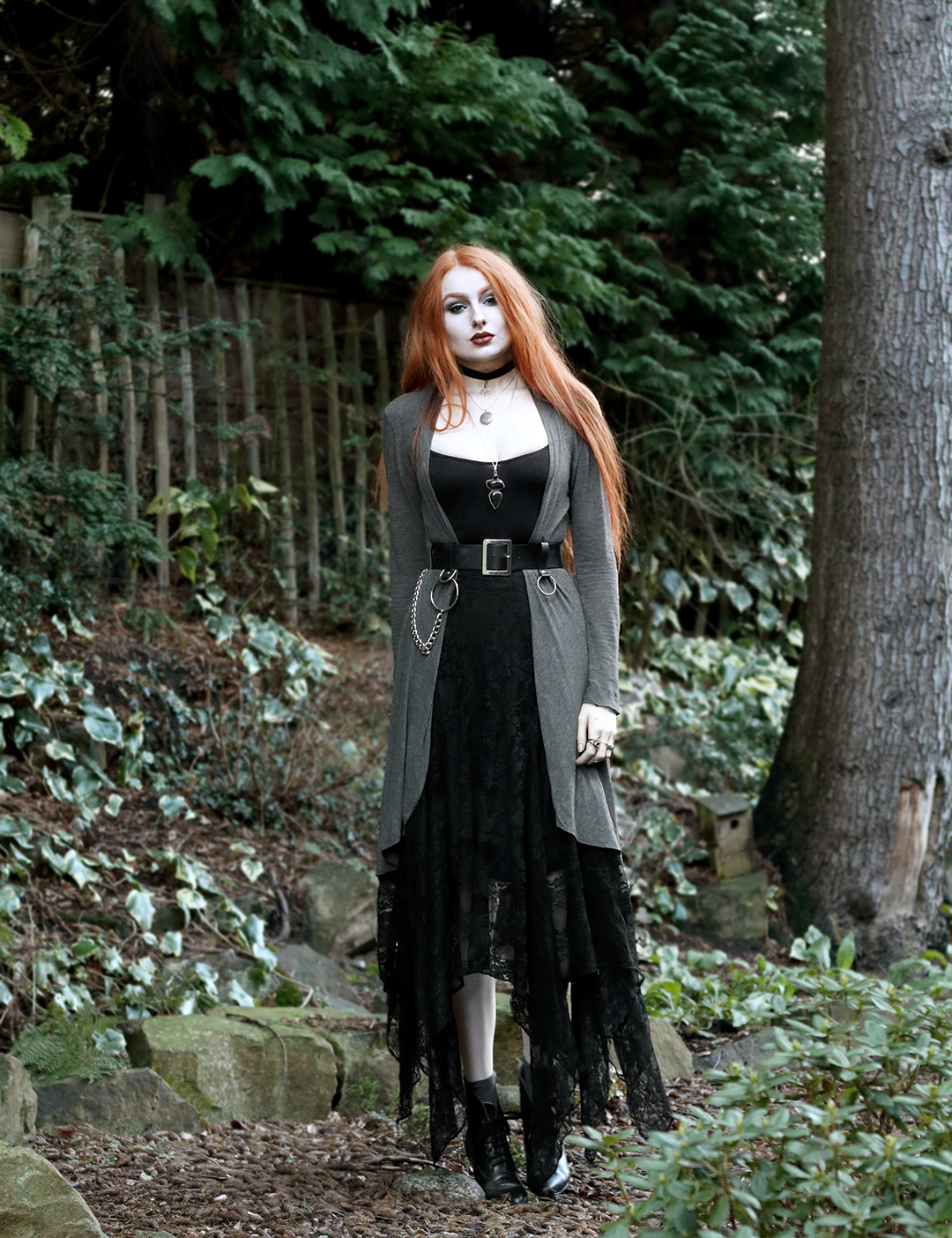 What I'm Wearing:
Black Velvet Quartz Choker  – Regal Rose
Circle Locket Necklace – Shop Dixi (Sold Out – Similar)
Black Agate Pendant Necklace* – Wildinanda
Long Grey Drapey Cardigan – Secondhand (Similar 1 & 2)
Square Neck Vest Top – Vintage (Similar)
Chain Waist Belt – Asos (Sold Out – Curve Option & Similar)
Lace Hankerchief Hem Maxi Skirt* – Corvus Corone
Victorian Style Pointed Boots – Vintage (Similar 1 & 2)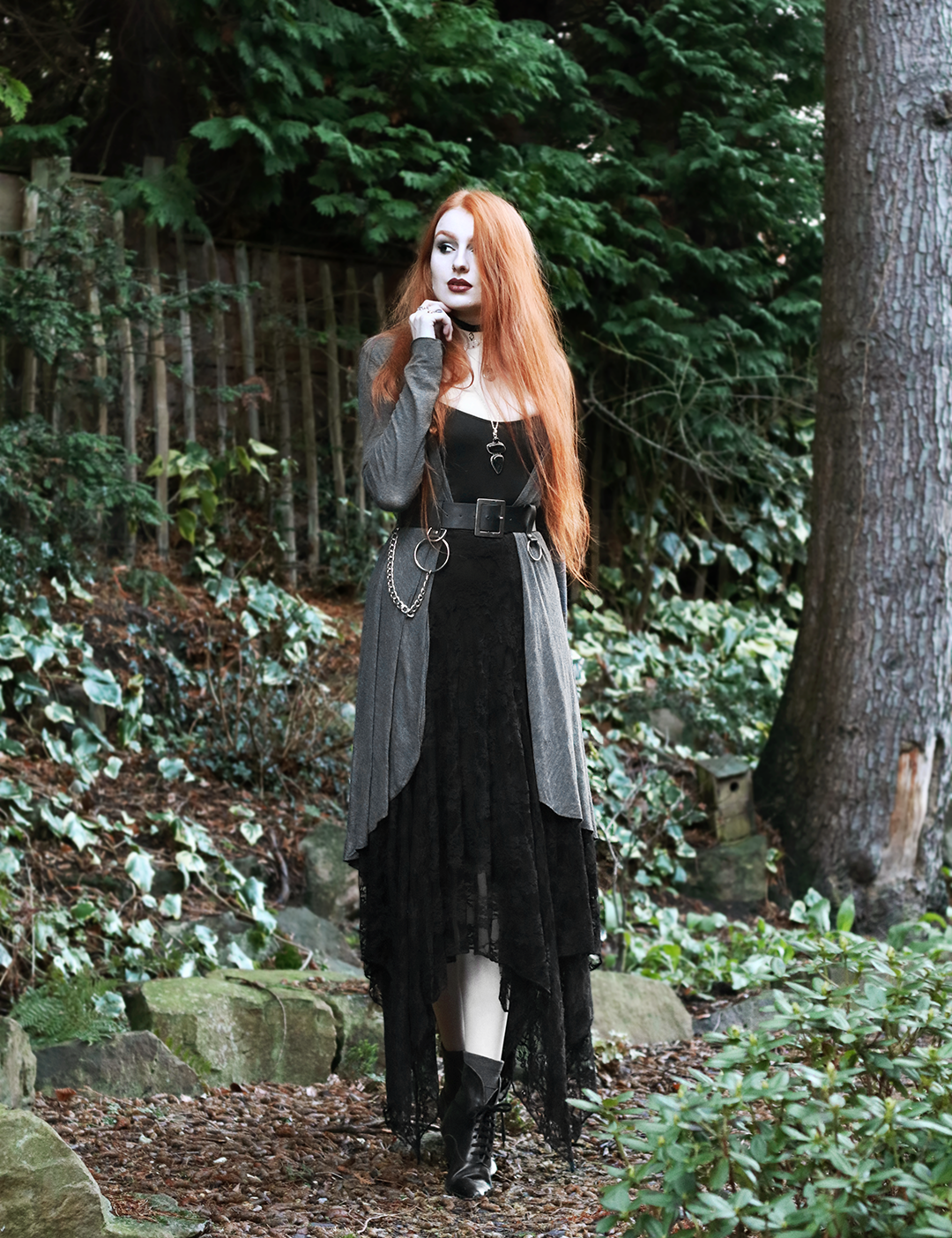 Longer Lengths & Wardrobe Evolutions
This was an outfit I threw together for a family meal when I was back home. I've found recently that I'm getting older I'm getting more interested with playing with length in my outfits. A few years ago a short skirt was my statement go-to when dressing up, but I'm really loving embracing the longer lengths now!
Since originally throwing this outfit together, it has fast become a firm favourite dressy outfit. The uneven hem of the gorgeous Corvus Corone skirt gives it some slight Morticia vibes – though without it trailing on the floor as hers did (much more practical for everyday life!)
Have you guys found that your style/favoured pieces have changed as you've grown up? (I mean aside from the obvious post-blunder years transformation/glow up haha… I definitely had some shocking outfit about 10 years ago)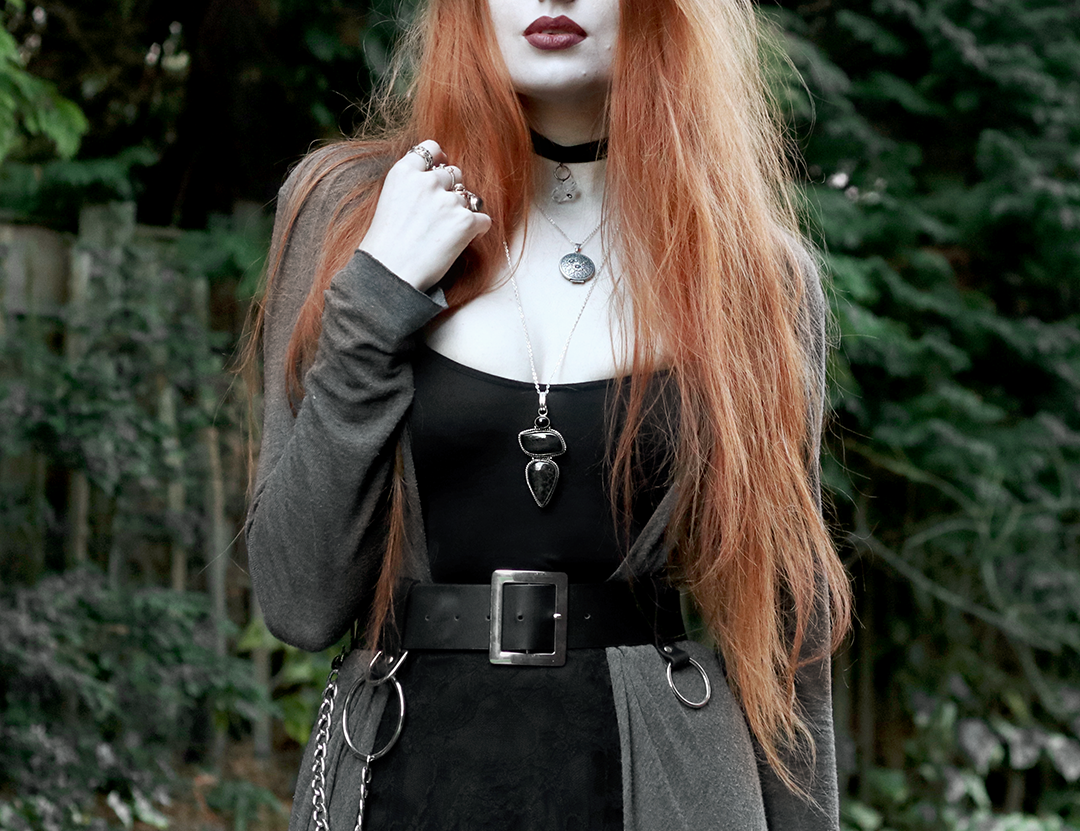 Layering the drapey cardigan over the 'tattered'-looking skirt was an inspiration that came from the wonderful Alice. She's my go-to inspiration for all things draped, layered & witchy!
Also these shots were my first time using my new camera – the colour profile needed some adjusting which I didn't realise until afterwards so the colours ay seem a bit off here… But normal picture colour shall resume shortly!
Thanks so much for stopping by to read my ramblings, as always – it means so much to me! Take care and I hope you have a wonderful rest of the week 🙂
Love xxx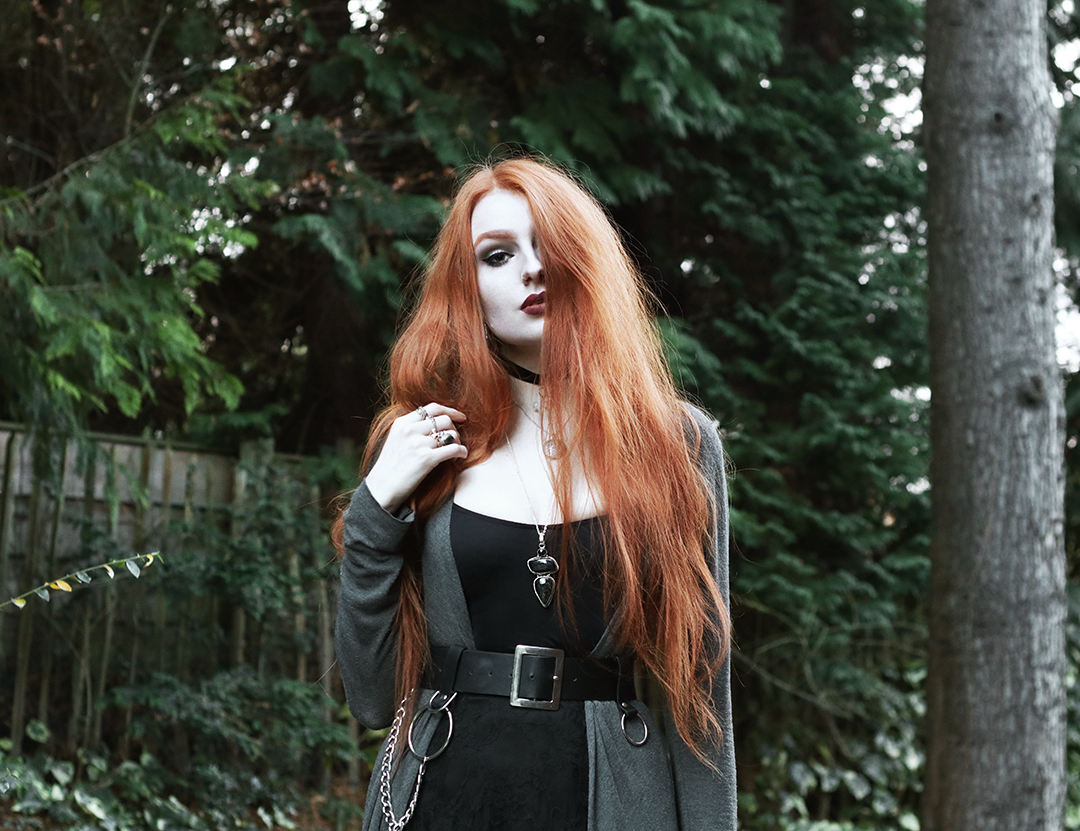 Make Up Details
Face
Kat Von D Lock-It Foundation in L42, mixed with Lock-It Concealer in White Out
(I recommend shade L41 for someone of my complexion, but it wasn't sold in the UK when I bought my bottle >.<)
Illamasqua Sculpting Palette in Nimbus for contour
Brows
NYX Micro Brow Pencil in Auburn
Eyes
Kat Von D Innerstellar Palette (sadly this was limited edition – it's one of my go-tos!)
Kat Von D Ink Liner in Trooper
Lips
Kat Von D Everlasting Liquid Lipstick in Madrid (that shade is only in the Everlasting Bundle from Sephora, but Hawkwind is available in the UK & similar!)