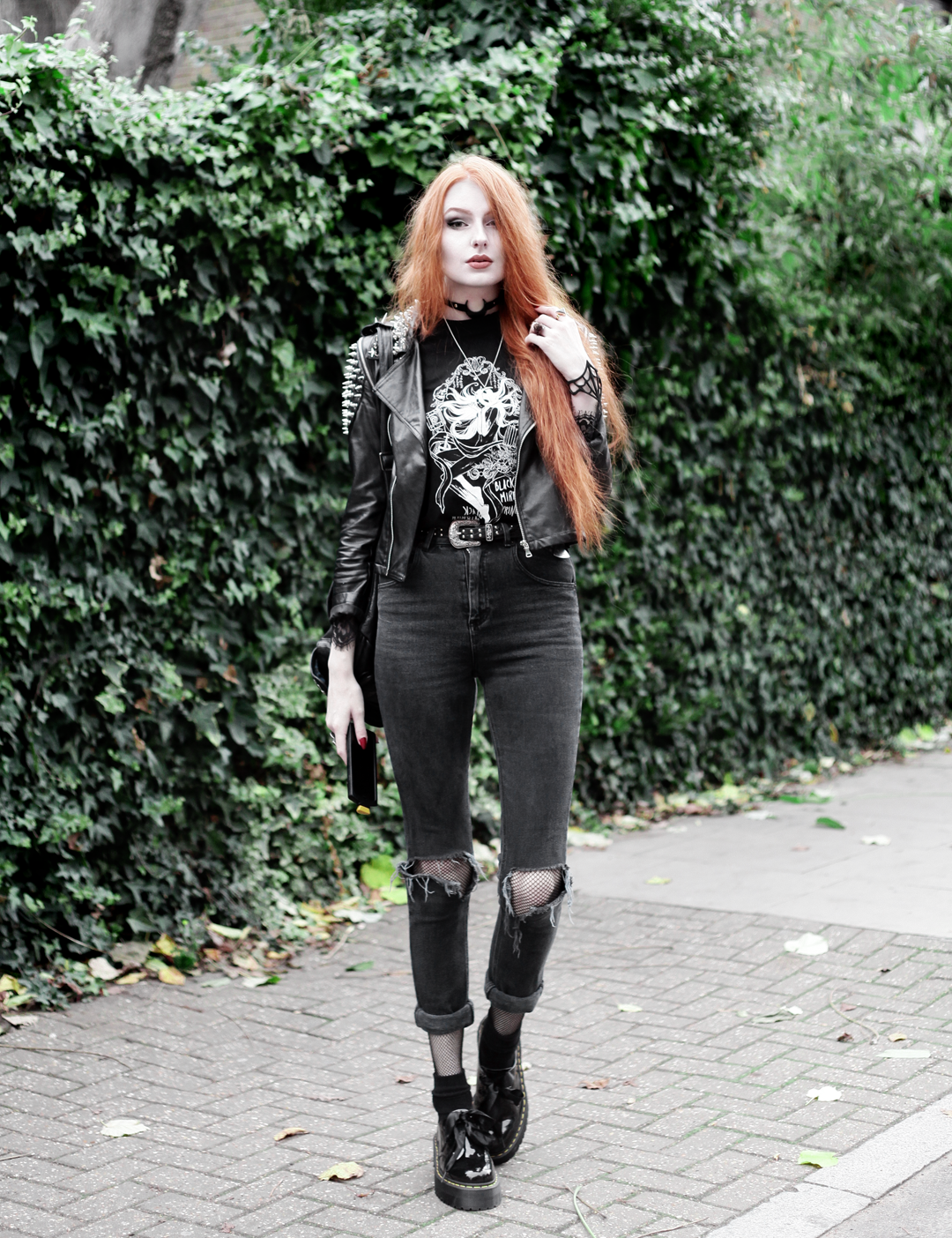 What I'm Wearing:
Black Moon Choker* – La Bohe Mia
Silver 'Mega Lune' Moon Pendant* – Avalanche Jewellery
Studded Biker Jacker – Old (Similar)
Fawnbomb 'Black Mirror Princess' Tee* – CosQueen
Long Sleeve Black Lace Top (under tee) – Motel
Studded Western Belt – Asos
Farleigh High Waisted Ripped Jeans – Asos
Matte Black Spiderweb Cuff* – The Rogue + The Wolf
Patent Platform Holly Shoe* – Dr Martens
Where have I been hiding?
Hey guys 🙂 I hope you're well and are having a fabulous start to the festive season!
Just a quick post today, as a little update. Sorry I haven't been super active on the blog the past couple of weeks – we've been on holiday in Bali, and stayed in a hotel with super-limited wifi (pretty damn slow and only in the lobby). So unfortunately I wasn't able to post to here while I was away! While I did feel like I was missing out on keeping up with my favourite blogs, and every now and then I'd hit the instagram app on my phone before remembering I couldn't see any posts, the internet detox wasn't half bad!
In a way the lack of internet was wonderful. It really gave me a chance to switch off, rest, and appreciate my surroundings more. I feel like I've come back refreshed, re-energised and more inspired to create some new content for you guys, which I think is down to me fully winding down and relaxing! And while I may have missed content from some of my favourite creators while I've been away, catching up won't exactly be a chore – I'm super excited to see what everyone has been doing! If you're a fellow blogger, leave me a link to your latest/favourite post below as I'd love to take a peek :3
Sorry I haven't spoken much about the outfit – I just wanted to post a quick casual outfit. I don't give the casual side of my wardrobe enough love on here! I actually wear jeans and tees pretty often – usually with lace & fishnets underneath, like these pictures. Would you guys like to see some more of my dressed-down outfits? Or anything other types of posts at all?
Take care, and I hope you have a wonderful week!
Love xxx