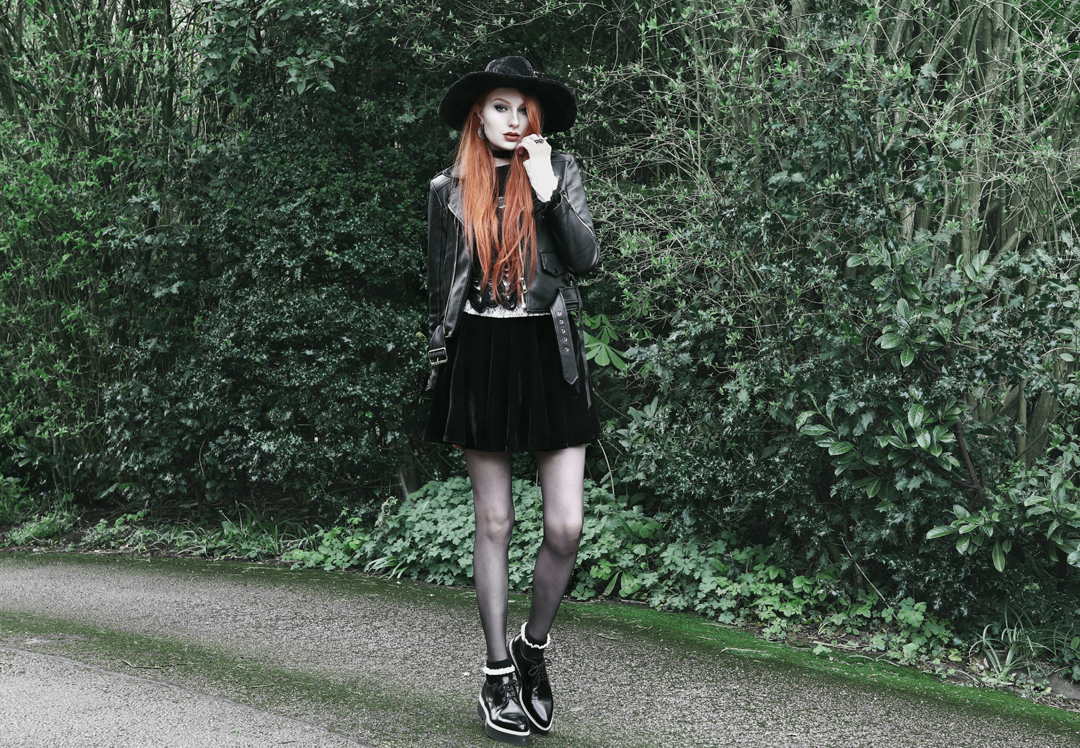 What I'm Wearing
Velvet Witch Brim Hat* – Killstar
Crescent Moon Earrings – Regal Rose
Velvet Choker – Regal Rose
Clear Quartz Necklace- The Serpents Club
Staple Moto Jacket – Unif (Similar (vegan))
Lestat Shredded Knit Crop Jumper* – Killstar
Black Velvet Skater Skirt – Old (Similar 1 & 2)
Silver Spike Ring* – Nyxturna
Matte Black Ring – The Rogue + The Wolf
Black & White Ruffle Socks – Similar
Platform Brogue Shoes – Alexander Mcqueen
Shredded Knits & Top Sample Sale Tips…
So – let's talk about the very surreal fact that I now own Alexander McQueen shoes. This is a position I never thought I would be in – owning a piece from one of my favourite designers, which would usually come at a hefty price… except I only paid £50. Hell, you can buys shoes from Topshop for more than that! (Though those shoes are also cute! Haha). I've mentioned it before, but sample sales are one of my top tips for looking fancy on a budget. That's not to say that I go to them all the time (probably only a couple a year), but they are perfect for those budget investment pieces.
With that in mind, I thought I'd share my top sample sale tips with you! I'll be focusing on womenswear, as unfortunately I don't really have any experience with menswear. I hope you find them hopefully, and best of luck with any sample sales you may be attending!
I often find the clothing a bit hit & miss, but I always seem to have great luck with finding awesome shoes!
Expect some signs of wear
Pretty much everything I have picked up at sample sales has some kind of sign of wear. It can range to little things – barely noticeable scuffs, a small mark that will wash out etc., to bigger things – broken zips, rips and giant stains. It's up to you to decide how happy you are with a defect, or much repair work you want to do. With any repairs it's important to consider whether the cost of any repairs it less than the discount offered!
For example, these shoes have little signs of wear on the sole, probably from being on a shoot or shop floor, but that will happen as I wear them anyway. I've also picked up more damaged things where zips have had to be replaced, but it was still a total bargain compared to the original price! Which segues pretty nicely into my next tip…
The better the condition, the higher the price
This one is kind of obvious – the more pristine the piece, the closer to the original price it will be. It will definitely still have some discount (it's got to be in the sample sale for a reason!), but this is definitely worth being aware of.
Sample sizes will have better luck
I think my awesome luck with sample sales is probably due to that fact I'm model sample size in shoes (usually a UK 7). Pieces in model/still life sample sizes are certainly the most common at sample sales – just as they have more opportunity to become even the tiniest bit damaged. This is usually a size UK 6-8 in womenswear, a size UK 6-7 in shoes for model shots, & UK 5 in shoes is often used for still life e-commerce shots. People in those sizes may have the best luck in a sample sale for clothes & shoes!
That's not to say that just sample sizes are in the sample sale. You can find a range of size due to things getting damaged at warehouse, press samples that have been returned in an imperfect condition or whole style could be faulty in every size, and therefore be unsellable as regular stock.
And don't forget that things like bags, accessories and beauty products have no sample sizes, so are always reliable!
Try to keep expectations low
It's hard (especially with how much I'm gushing about them) but going into these sales with low expectations is best. If you expect that you will find this one perfect thing by a certain designer, in the best condition then it's highly likely you could come away disappointed. Go in with an open mind – it's easier to search through more things and find some lovely deals!
Be aware – some are cash only
This is certainly a decreasing problem, but some sales won't take card! I have only been to one that was cash only, but I have heard stories of people getting to the till with no cash, only to find that there is no card machine. So just be aware – maybe see if you can check before you start shopping, so you don't lose your items!
Dress to try on, and have a friend on hand
A bit of a weird sounding one, but a majority of sample sales don't have changing rooms or mirrors! A good option is to wear a base layer under your outfit if you don't fancy stripping off in the room – leggings and a vest top are a good combination! Be sure not to wear something too baggy as this may affect the fit of what you are trying on.
As there's no mirrors I recommend bringing a friend along for an extra opinion, and they can take a picture of  when you try things on so you can see too!
Don't buy 'just because…'
This is probably the most important one. It's the biggest bad habit I have to talk myself out of at any sample sale! Only buy something you love – don't just buy because it's (relatively) cheap. For most sample sales it's still a lot of money that isn't worth spending on something you don't totally adore. Walking away empty handed is okay!
I hope my tips have helped you guys for nay sample sales that you may be attending. Do you have any other tips? I'd love to know, so please share them in the comments below! (Ha, I'm a terrible, terrible poet)
Anyway, there's some more pictures of the outfit below, including one where I was testing the lighting (…guess which, haha). Take care, and thank you so much for stopping by to read my blog!
Love!xxx