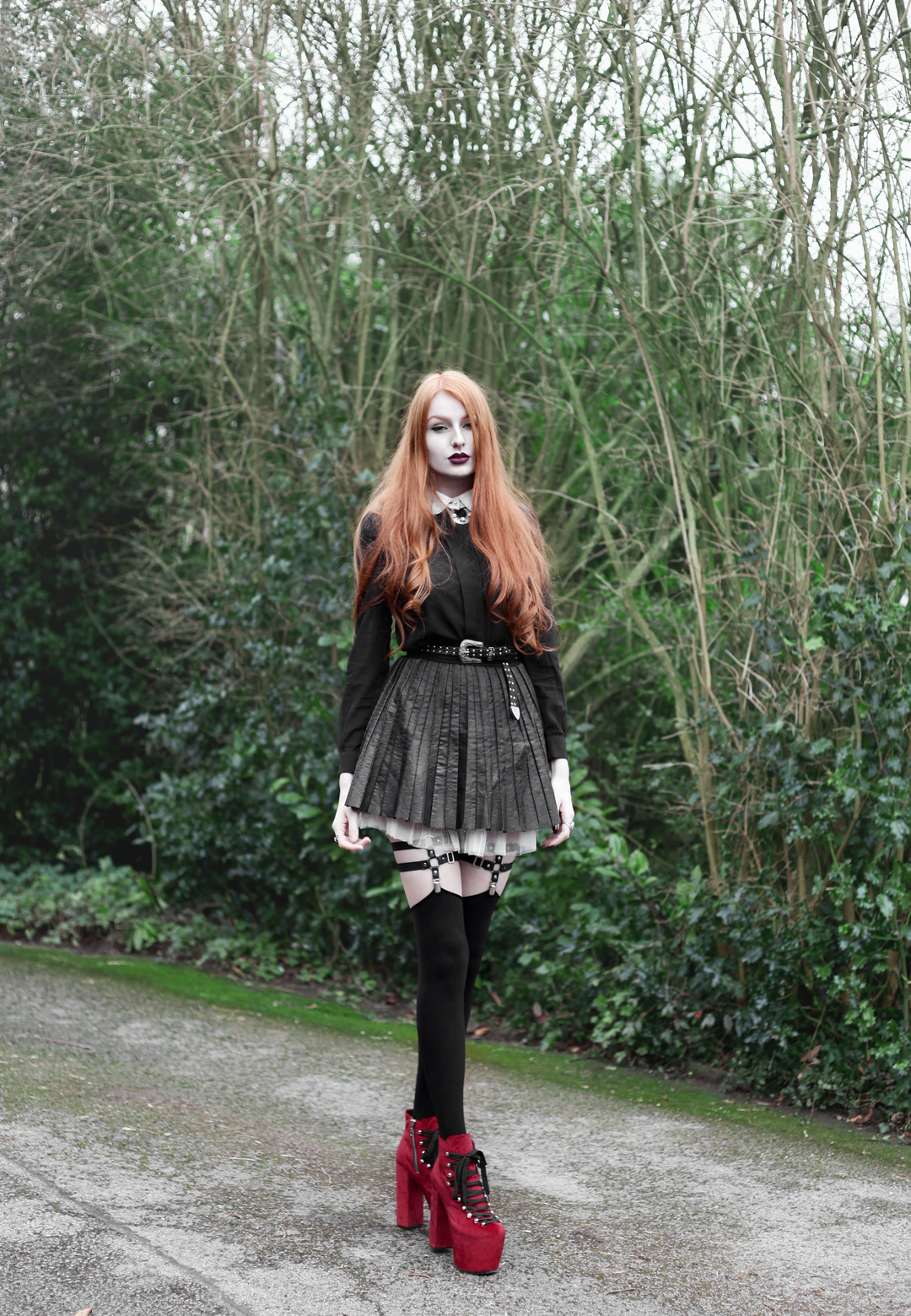 Mixing new favourites with lovely bits that I'd forgotten.
Crescent Moon Moonstone Necklace* – Forage & Find
Contrast White Collar Black Blouse – Old (Similar)
Studded Western Belt – Asos
Faux Leather Pleated Skirt – Old (Similar)
White Tulle Underskirt – Similar
Leg Garter Suspender Harnesses – Jakimac
Red Velvet Hellbound Boots – UNIF
Isn't finding things you've not worn in forever amazing? We went back home to the north last weekend, and I went through all the clothes and shoes that I'd left at my parents house, and found some total gems!
This blouse just screams 'Wednesday Addams', and I paired it with my new crescent moon necklace which falls just at the collar fastening for some polished witchy vibes. The rings I'm wearing are from the same place as the necklace – they really do have some gorgeous antique-inspired pieces, some of which include pieces of older vintage items – I strongly recommend that you check them out!
I also found this skirt which was one of my absolute favourites a few years back, but as I continued growing after I got it (tall girl problems!) it now borders on indecently short. I put a white single-layer tulle underskirt underneath to increase the length a bit, and it also added another white accent like the collar detail, which turned out quite well :3
Finally, the most stand-out pice that I can't believe that I completely forgot about – my red velvet Unif Hellbound boots! They are such a  gorgeous colour, an make a great addition to any all black/ monochrome outfits (lets face it, I have a few :P).
Have you found any wardrobe gems that you forgot about until just recently?
Thanks so much for stopping by! Love xxx