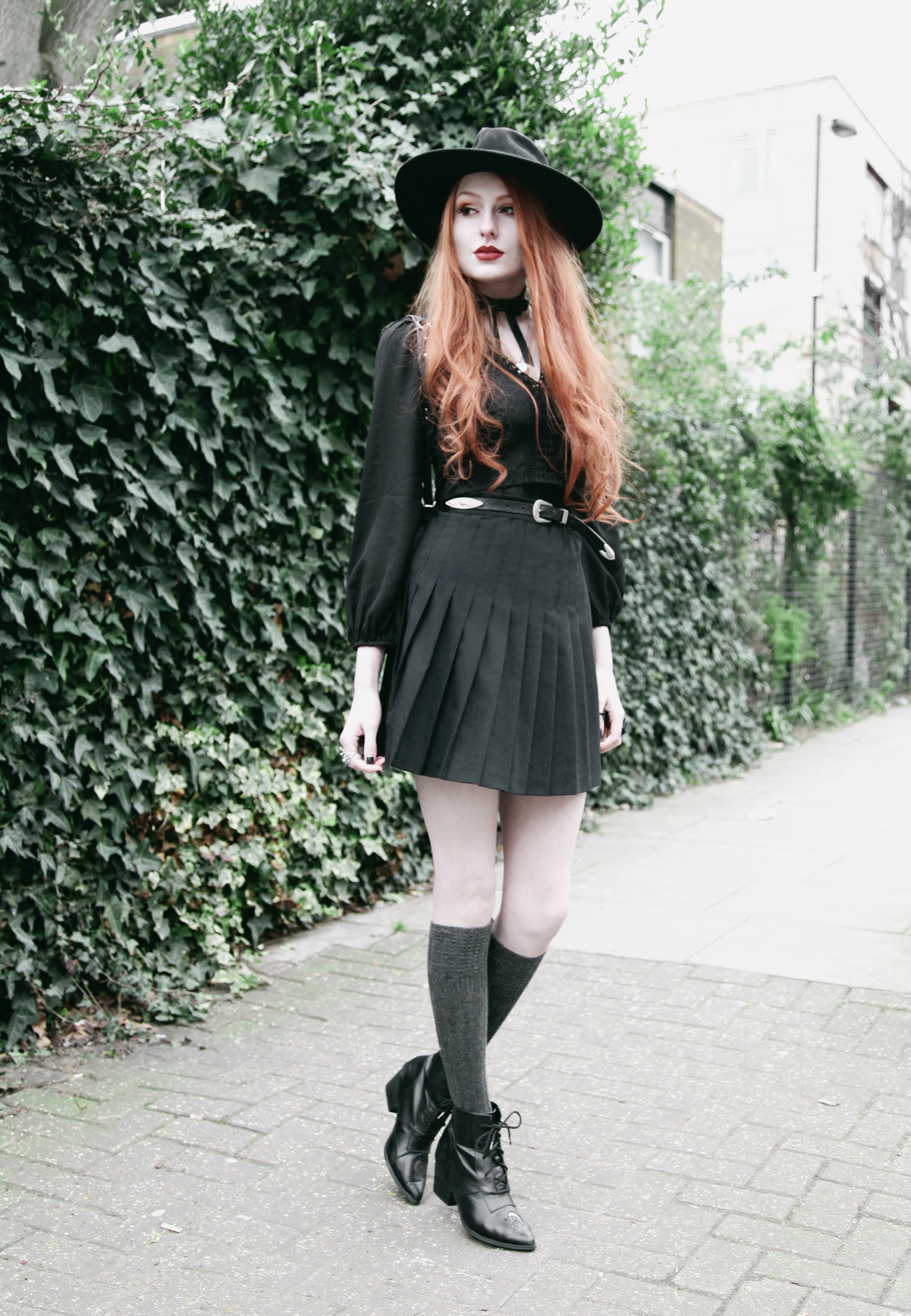 Catarzi Wide Brim Fedora – Asos
Bowie Bow Choker* – Valfre
Black Faux Fur Coat – Similar
Folk Embroidered Crop Top – Asos
Western Style Belt – Asos
Pleated Skirt – American Apparel
Aura Pointed Boots – YRU (Similar)
Matte Black Ring* – Rogue + Wolf
Medusa and Green Snake Rings* – Regalrose
If I were a Pokemon trainer, this is probably what my sprite would look like. When we went out to take these pictures, I'd actually taken a Pokeball toy in my bag with me (from my instagram post here) so you can see in a couple of the pictures below that I got it out for my outfit shots too, seeing as I was wearing such a trainer-esque outfit :3
So – question of the day – who would be in your Pokemon team? Or if you were a Gym Leader/Elite 4 member what type would you train? I generally go for the same mix of different types every generation; psychic, fire, dragon, electric, dark and water/ice!
I picked up this top recently on Asos – its little embroidery features are really cute and it will be perfect for when summer comes as it has an open back. (Failed at getting a picture of that was it was a bit too breezy to take my coat off for too long!) I just wish the sleeves were a touch longer.. damn these ridiculously long limbs of mine!
Recently, I also featured this eye makeup look on my instagram not so long ago – I used the Illamasqua contour palette for it – would you guys like to see a post with swatches & different uses for the palette? It's one of my current make up faves so I'd love to share it with you guys if you'd be interested!
I hope you have had a lovely weekend, doing whatever it is you wanted to do! Thank you so much for stopping by my blog, it really does mean so much.
Love! ♥