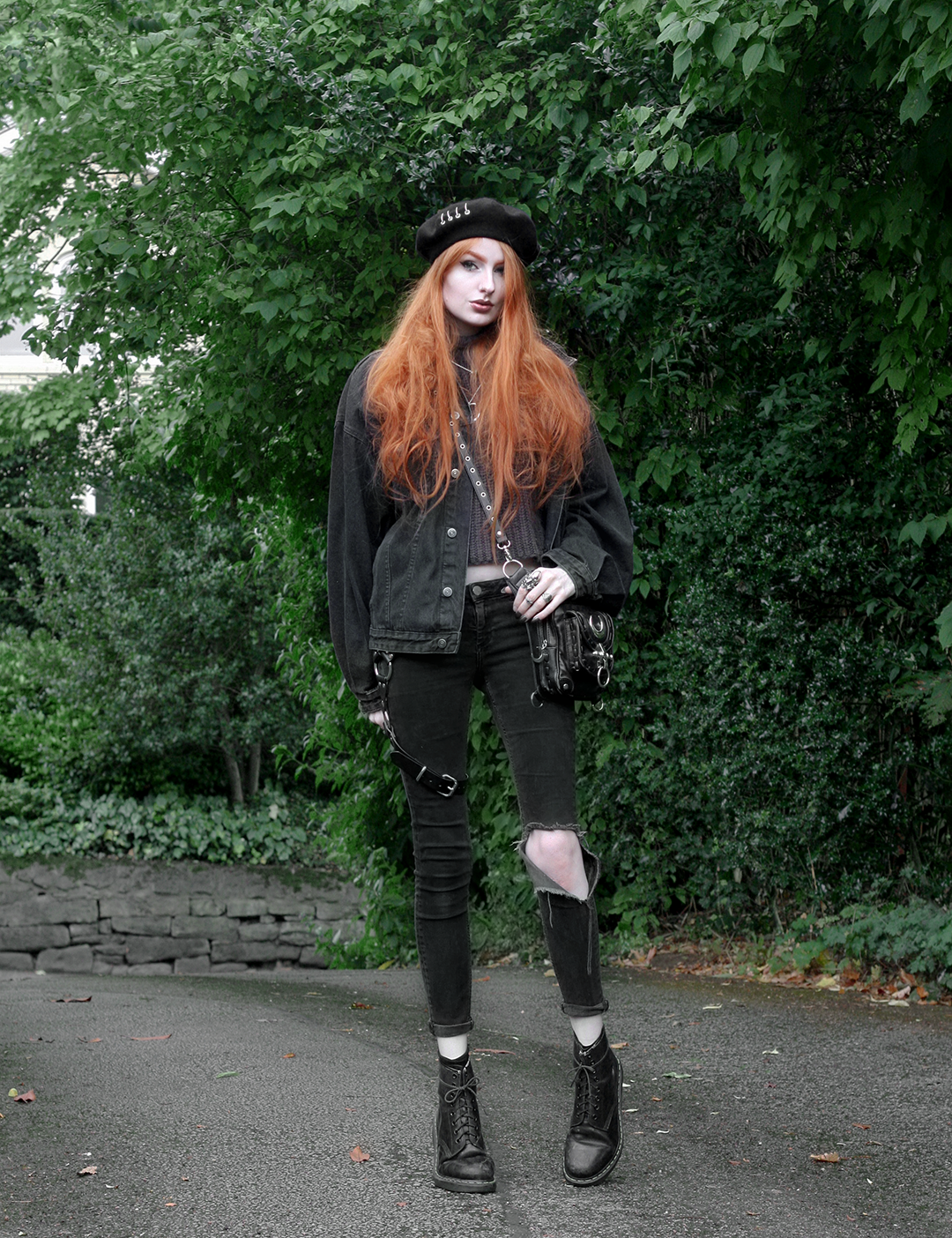 What I'm Wearing
Shikumi Piercing Beret – Asos (Similar)
Mens Oversized Black Denim Jacket – Asos
Current Mood Grey High Neck Jumper – Dolls Kill (Old- Similar)
Luna Crossbody & Harness Bag – Restyle
Leg Harness – Dolls Kill (Old – Similar)
Whitby Ripped Black Skinny Jeans – Asos (Old with homemade knee rip –  Similar)

Hey lovely people <3
It's time for my first blog post of 2018 (which will hopefully be one of many more!). It's actually a post that I meant to write last month, but as I thought more about it what I wanted to say evolved. Therefore this post is going to be more chatty, with less of an outfit focus – but if outfits are more what you're interested in I've popped a little section at the bottom of the post about this look!
Sorry – I know a lot of my last posts were like this (the reasons why I go into a little here)… but normal outfit post service will resume after this one!
Just a little warning too – in the below writing I go into some of the difficulty I was having dealing with my mental health. If you are at all sensitive to this kind of thing and feel like this may effect you in some way, please don't read this section of the post (maybe everything but the last paragraph about the outfit, just to be safe?). The last thing I would want to do is cause any harm to any of you.

Goodbye 2017 – you were horrid, but I needed it
Okay, so let's start with the facts – 2017 was a year. That year just ended (yay). For me, that year was… not great. It was a difficult year with a few extra-shitty moments. I hope this wasn't the case for you guys – I know some people who had wonderful 2017s, and I hope you are included in that group! But if not… know that you're not alone, and I am here to give you a huge 'we made it' celebratory virtual hug (and/or cup of tea or glass of wine).
While everyone was sharing their highlights of 2017, I took a little time to reflect on the year I had. At first, I felt so deflated – everyone else had made so much of their year, and I felt like I'd been a pathetic blob the whole time. But the more I thought about it, the more I realised that I grew as a person more than I ever had before last year.
Before the latter half of 2017 gave me a much-needed kick into gear, I just accepted feeling anxious and low; that was just how I felt and I would wait for it to blow over. I kept telling myself it was something that would pass and that it wasn't a big deal.
I was so wrong.
It didn't really pass until I did something about it… much later. And it was a HUGE deal – not only because it affected me, but because it affected people around me too.
There was a time (which is so embarrassing to think about now) where I'd completely let everything about myself go. It wasn't until some major events happened in 2017 that I realised how far I'd gone. And even then, as I tried to pull myself out of this hole I'd made for myself, I found it so difficult to stick to the tasks I was setting myself to make me better. Even though I wanted nothing more than to be better, it was tough to find that motivation some days. But this leads me to one of my most important realisations of last year:
 It is okay to not be able to work through something on your own.
It is okay to need help – there is no shame in it.
But please, seek that help if you feel you need it.
With that realisation I was able to strengthen myself through support, and start being the person that I wanted to be again.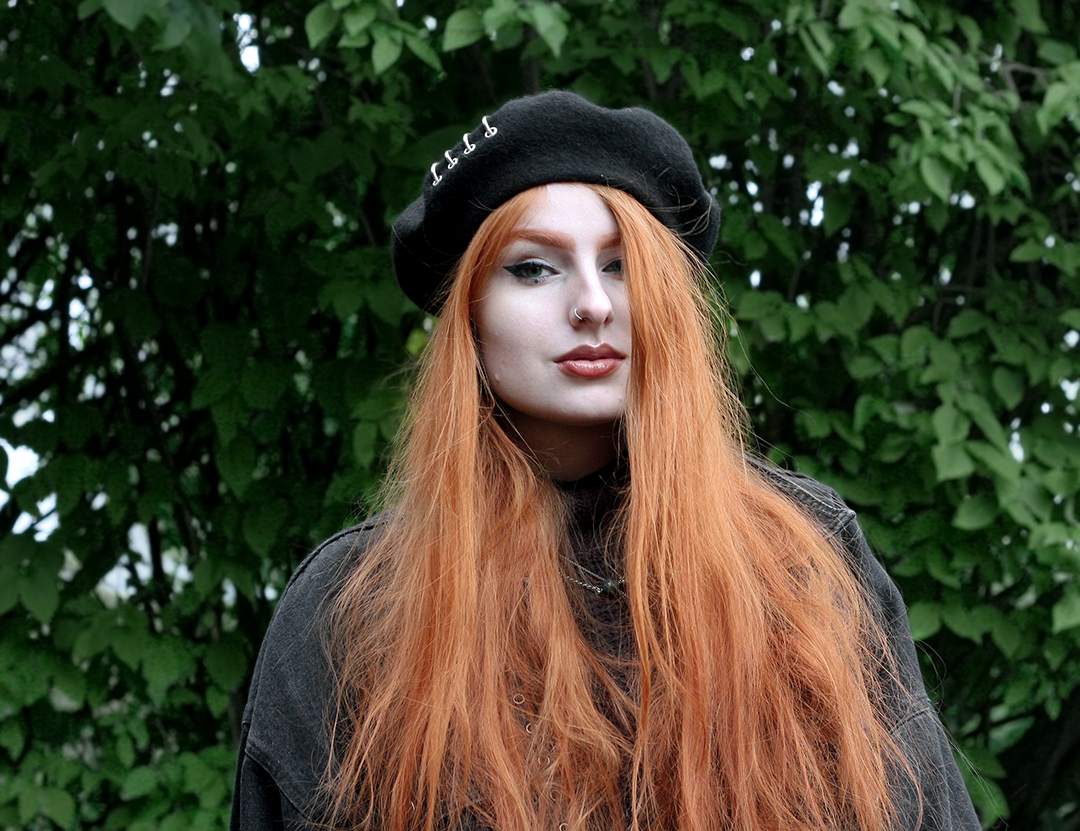 2017 was a year where I realised how much my actions had hurt people I loved. There were a lot of tough moments that have changed my life in challenging ways, but they are things & lessons that I have to accept and learn from. They helped me realised what kind of person that I want to be, and what I want to achieve with my life.
That said – I'm still so clueless on some parts! But I am learning to be my true self again and without such a difficult year, that would never have been possible.
ANYWAY! I don't want this to be an Olivia Pity Party. I wanted to share with you guys in order to be more honest. And if typing this out may help someone that can relate to this, that this may resonate with? Then I'd be over the moon. I needed some bad moments in order to realise how 'not okay' I was – I guess I'm just hoping that maybe this will strike a chord with someone before they get to that point. (if anyone reads this or anything haha)
If that is you, I am sending you so much love and hugs – please consider my advice. I know how difficult it may seem, and I know that I know nothing about your own situation so I have NO IDEA how you feel… but as someone who was/is finding life a bit difficult, please don't feel alone
If you feel like you need help, taking that first step is the hardest part (at least it was for me), so once you've done that, you can do it all. And you CAN do it <3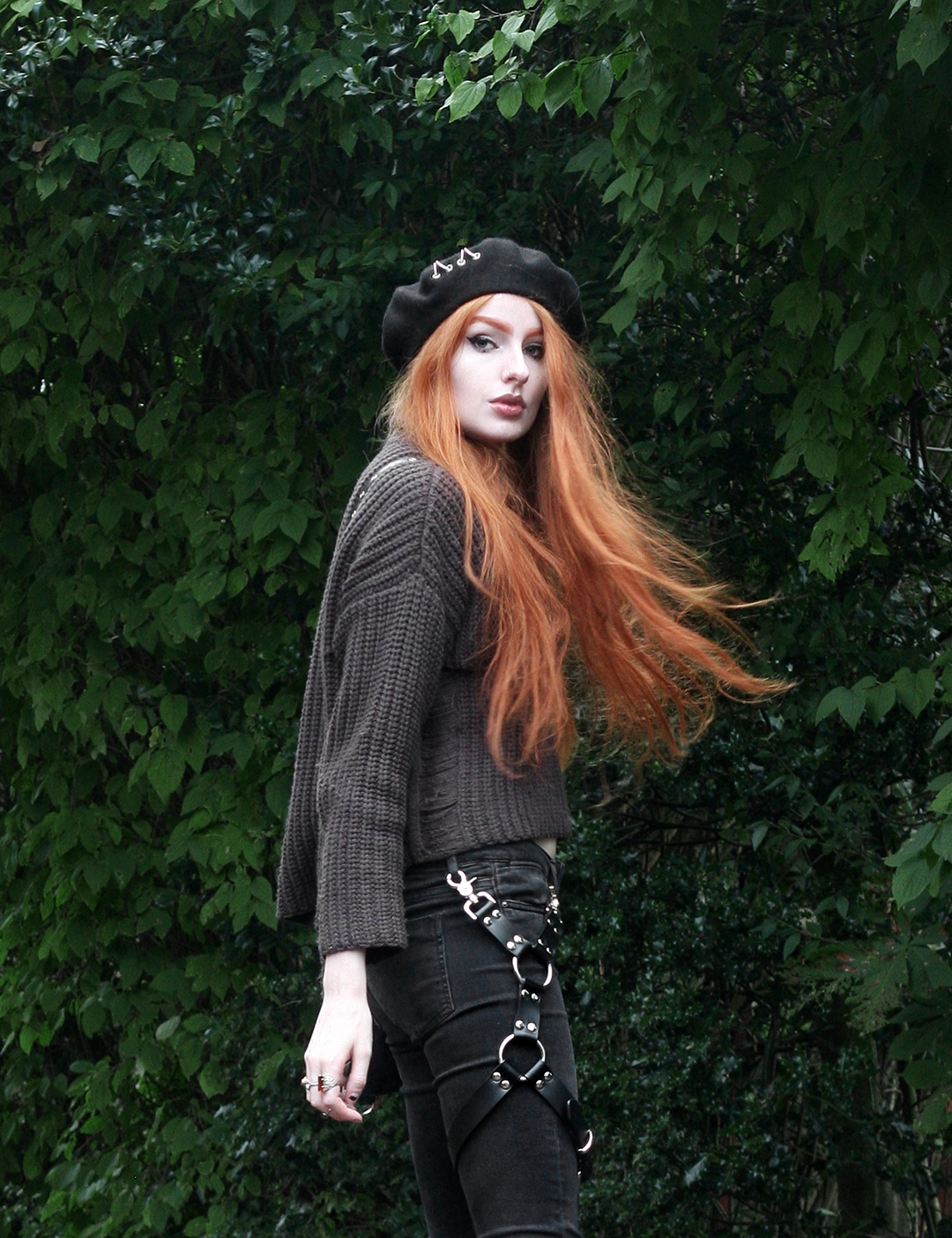 Re-being Myself
Since making those realisations I've been working hard at re-learning myself.  I've rediscovered not only my sociability, but my independence. After hiding inside for months – anxious about situations where I'd have to speak to people, doing the bare minimum 'life' stuff so I could survive – I started turning myself round. I've met so many wonderful people, and got to know so much more about the people I already knew. I've been to places where I've known one person, or even no-one and had an amazing time & made friends!
I'm looking after myself more. Giving myself schedules to manage my time and ensure that I keep myself and the space around me as happy and healthy as possible. Treating myself when I do something that furthers what I want to achieve. Looking after myself, because my happiness starts with me, and shouldn't be predicated by others.
I also started picking up some of my old favourite hobbies that I hadn't touched in years – my favourite being drawing. If you follow me on instagram you may have seen a couple of sketches on my stories… I'm hoping to keep developing my skills so I can start incorporating them into the blog/IG images I create!
So yeah. Maybe 2017 sucked, but I needed everything that I learned last year to become a better, happier & more confident person. In a cliche way it was like my chrysalis stage, and I'm now ready be who I'm meant to be.
And if you are feeling as I was – you are not alone! If you feel like you need help, please reach out & find that support. Be it a certain type of therapy, or some kind of activity –  there are so many wonderfully caring people out there. You don't have to struggle through this in silence.
Onto the outfit – this was a super-casual look for running some errands. You know, the kind where you roll out of bed and grab whatever's clean and vaguely goes together? And what's better in winter than a classic simple jumper & jeans combo! That said, I do like to make the look a bit more 'me' with accessories… enter the pierced beret and leg harness! This leg harness is such n easy way to add more of a statement to quick outfit (particularly one that I throw on in 5 minutes after rolling out of bed, haha!).
Do you have any go-to statement pieces that you like to add to simple outfits to make them more 'you'?
Make Up Details
Face
Kat Von D Lock-It Foundation in L42, mixed with Lock-It Concealer in White Out
(I recommend shade L41 for someone of my complexion, but it wasn't sold in the UK when I bought my bottle >.<)
Illamasqua Sculpting Palette in Nimbus for contour
NYX Bright Idea Stick in Lavender Lust for highlighter
NYX Setting Spray in Dewy Finish
Brows
NYX Micro Brow Pencil in Auburn
Illamasqua Sculpting Palette in Create brushed through hairs
Eyes
Kat Von D Ink Liner in Trooper for black cat eye
Lush Liquid Eyeliner in Courage for dots
Lips
Modern Minerals Lipgloss over some random old mid-brown lipstick from a palette
(Rings all from Regalrose – Kraken, Inamorata (Amethyst), Labradorite (old- similar))