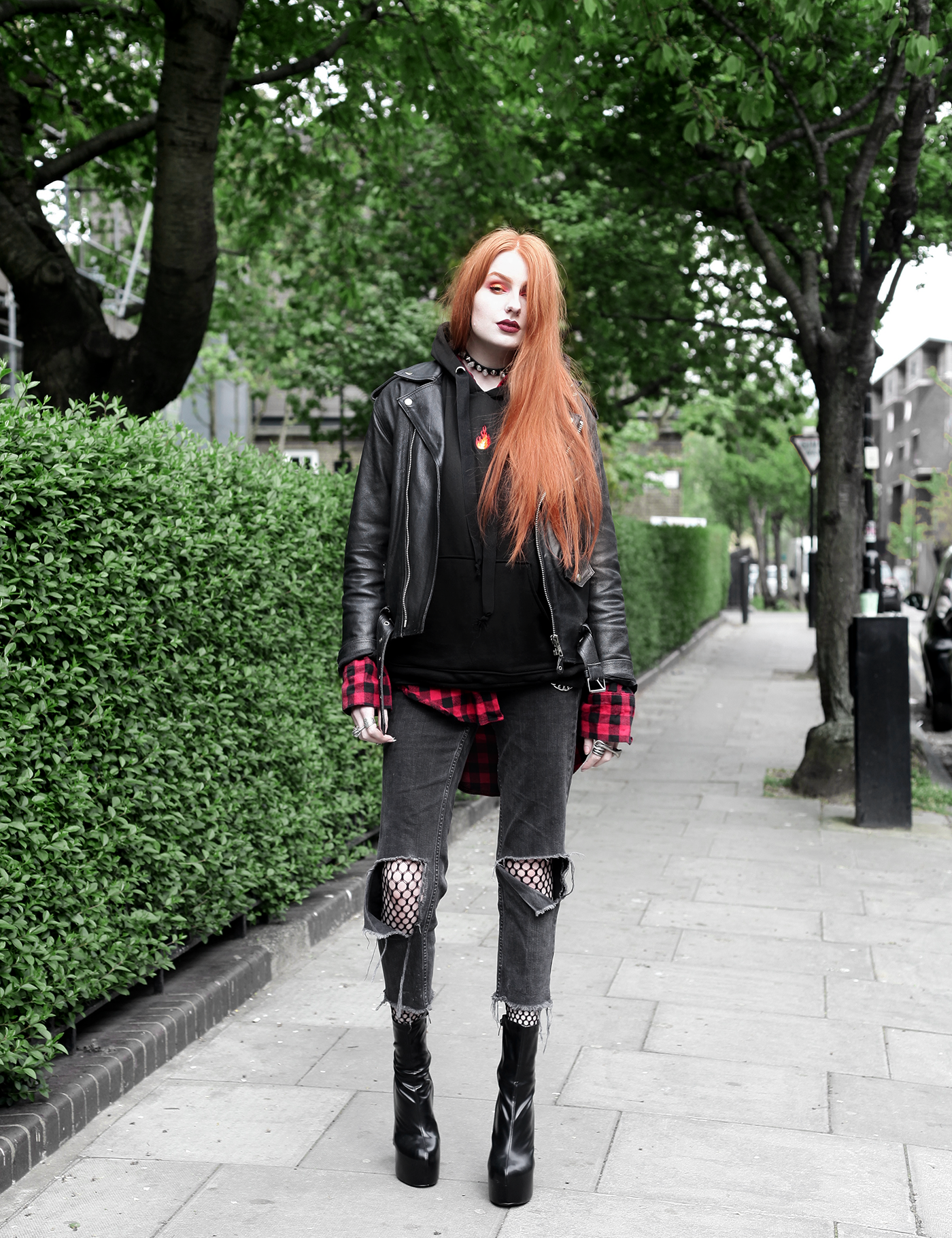 What I'm Wearing:
Quartz & Spike Studded Choker* – Killstar
Mens' Biker Jacket – Borrowed (Similar – vegan or leather)
Fire Emoji Hoodie – Adolescent Clothing (old – similar)
Longline Red Plaid Shirt – Stylenanda (old – similar)
Ripped Straight Leg Jeans – Asos (old – similar)
Hexagonal Fishnet Tights – Asos (only £1.50 in the sale!)
Vegan Leather Platform Boots – Public Desire (sold out – similar)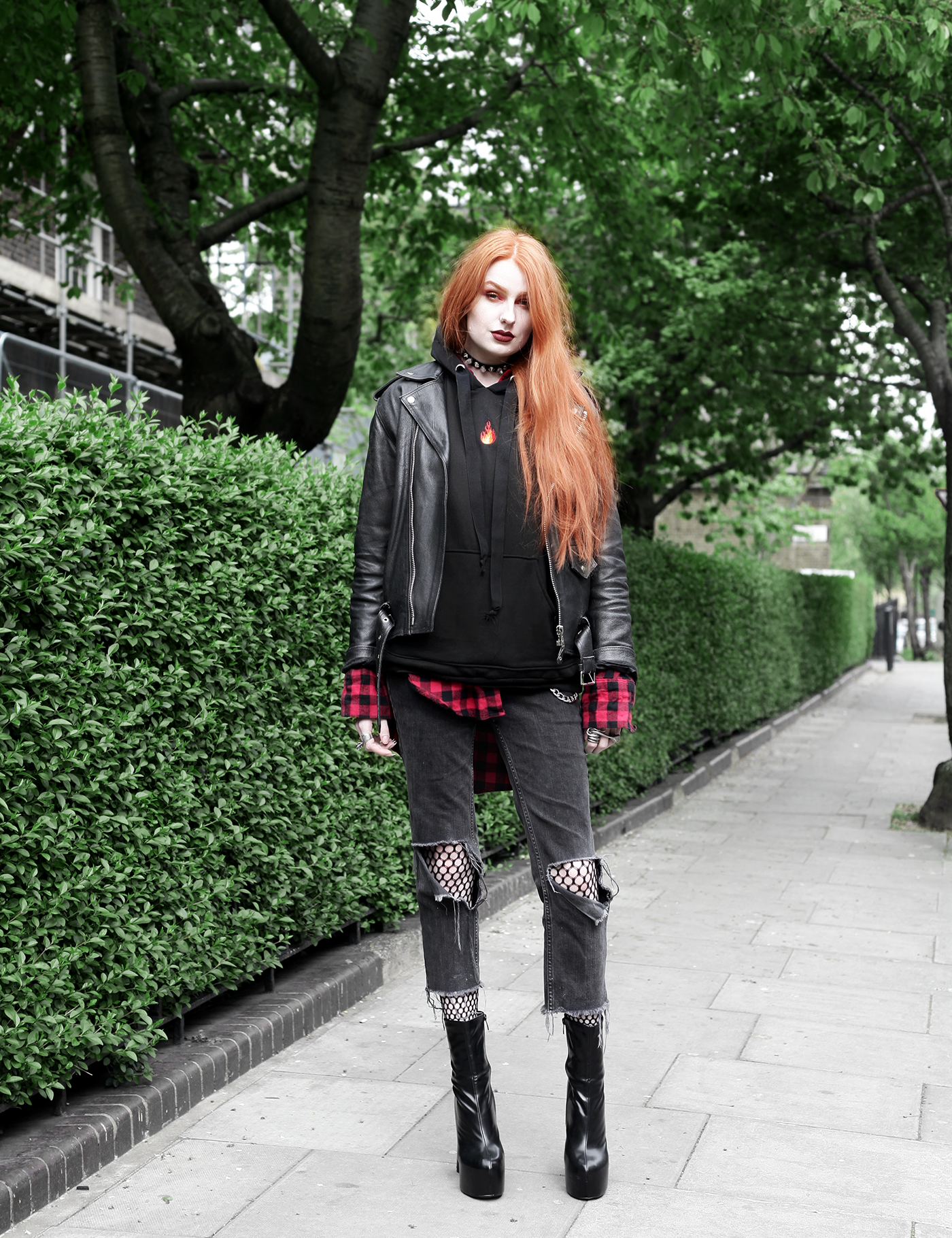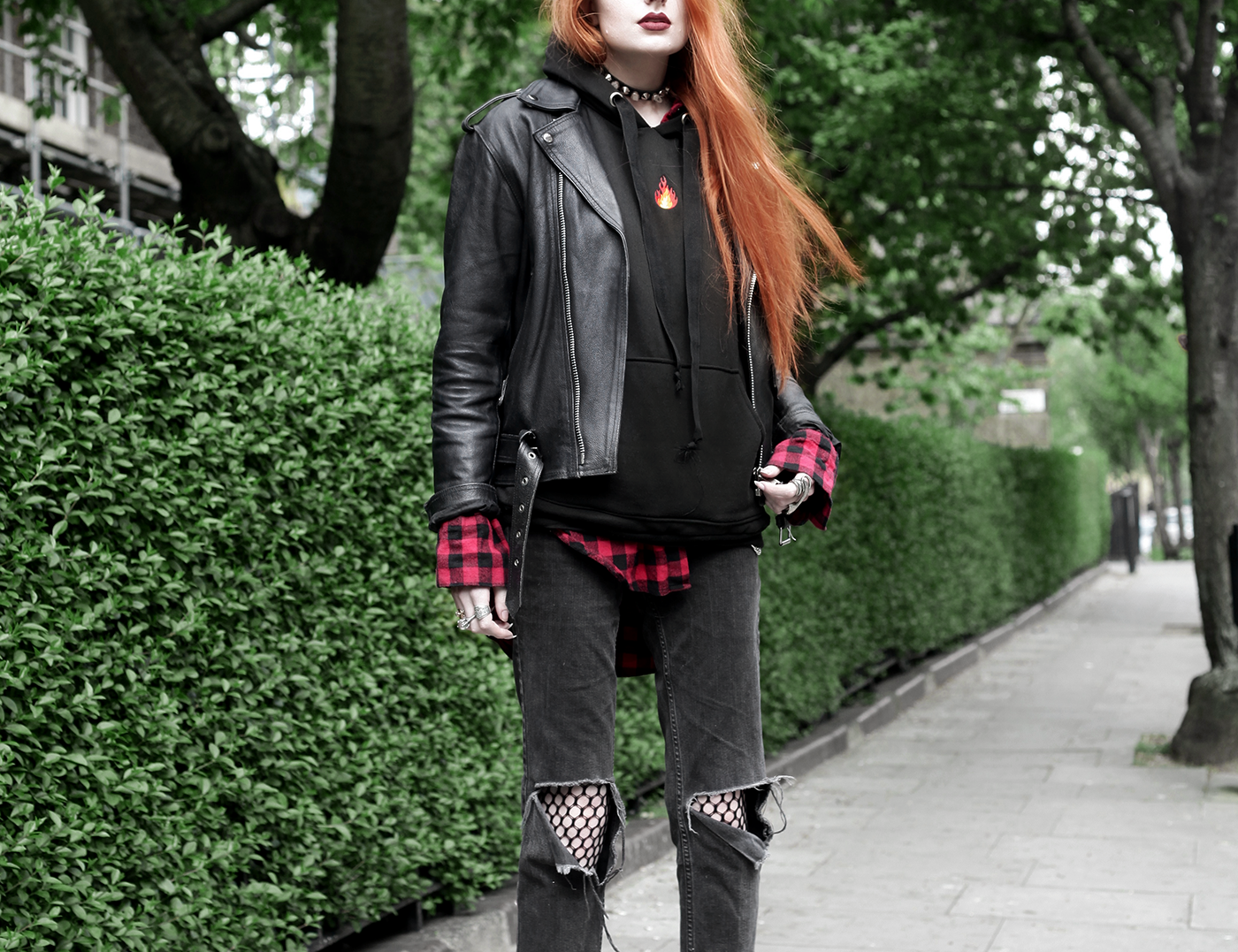 Heels – Making Hoodies Smarter!
We all have those days where we just want to snuggle up under layers of cosy clothing, right? I mean, that's basically me most days during the winter… but dressing like that everywhere doesn't always work (boo). That's why I love the dressy oversized hoodie look! Chunky heels and an oversized hoodie are such a dreamy pairing. Think Balenciaga vibes – it's definitely not my usual style but I will take any excuse to be cosy, so I adopted the look into my wardrobe.
Here I added a layer of flannel plaid under the hoodie to pay with layers of different length… and I'd be lying if I said it wasn't for warmth too. To make my take on the look a bit more 'me' I paired it with ripped jeans and fishnets, before finishing the look with some platform boots!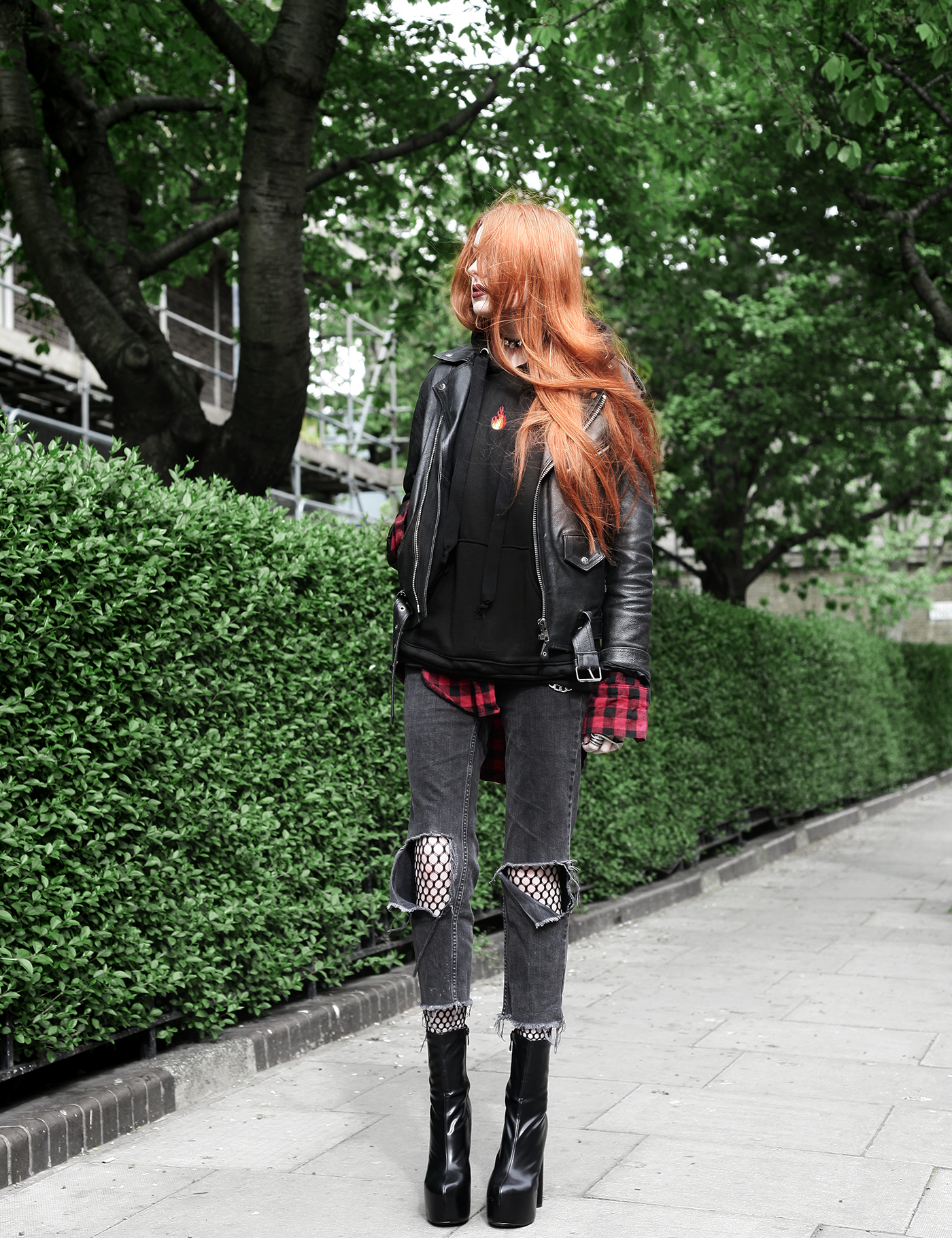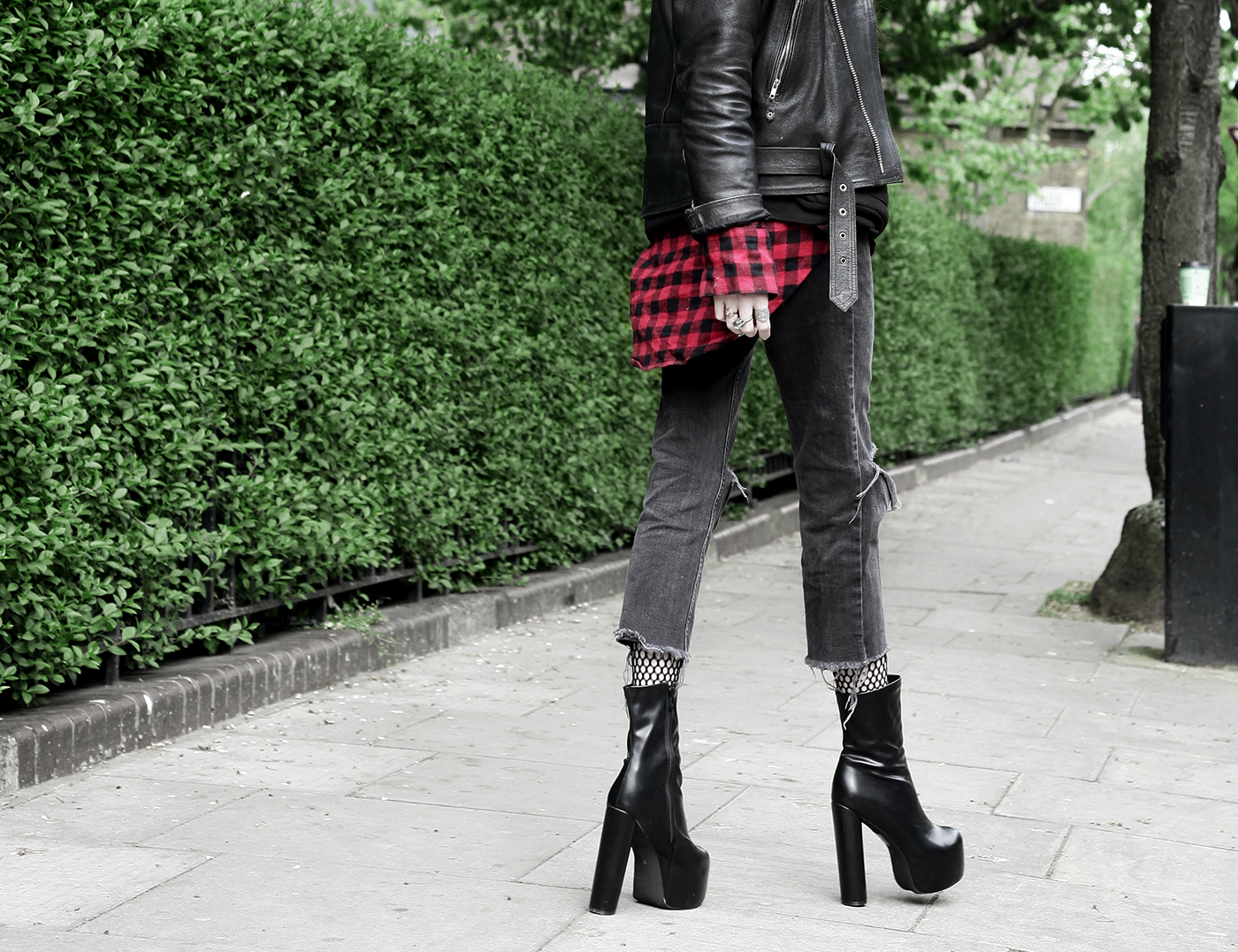 Fire-Inspired Eyes
To match the cute lil' flame emoji on my hoodie I did a fiery eye look! It's an attempt at a halo eye – I've been slowly practicing eye makeup, and it's still definitely something that I need to continue to work at. I had held off on sharing on here while trying to get my confidence up with it, but as I'm starting to get there I'll be incorporating it into my looks more now! I love how much extra dimension a strong make-up look can add to an outfit.
Do you have any top eye makeup tips? I'll gladly accept any help/advice that I can get, haha.
Anyway, thank you so much for stopping by and listening to my ramblings (as always)! I hope you have an amazing week – take care!
Love xxx
Make Up Details
Face
Kat Von D Lock-It Foundation in L42, mixed with Lock-It Concealer in White Out
(I recommend shade L41 for someone of my complexion, but it wasn't sold in the UK when I bought my bottle >.<)
Illamasqua Sculpting Palette in Nimbus for contour
Brows
NYX Micro Brow Pencil in Auburn
Eyes
NYX Ultimate Brights Palette – using the red on 2nd row, 2 oranges on the top row, and 2 yellows on the bottom row
Kat Von D Metal Matte Palette in Flash
Kat Von D Ink Liner in Trooper for small line next to the lashes
Lips
Kat Von D Everlasting Liquid Lipstick in Hawkwind (I think – these shots were a little while ago now!)