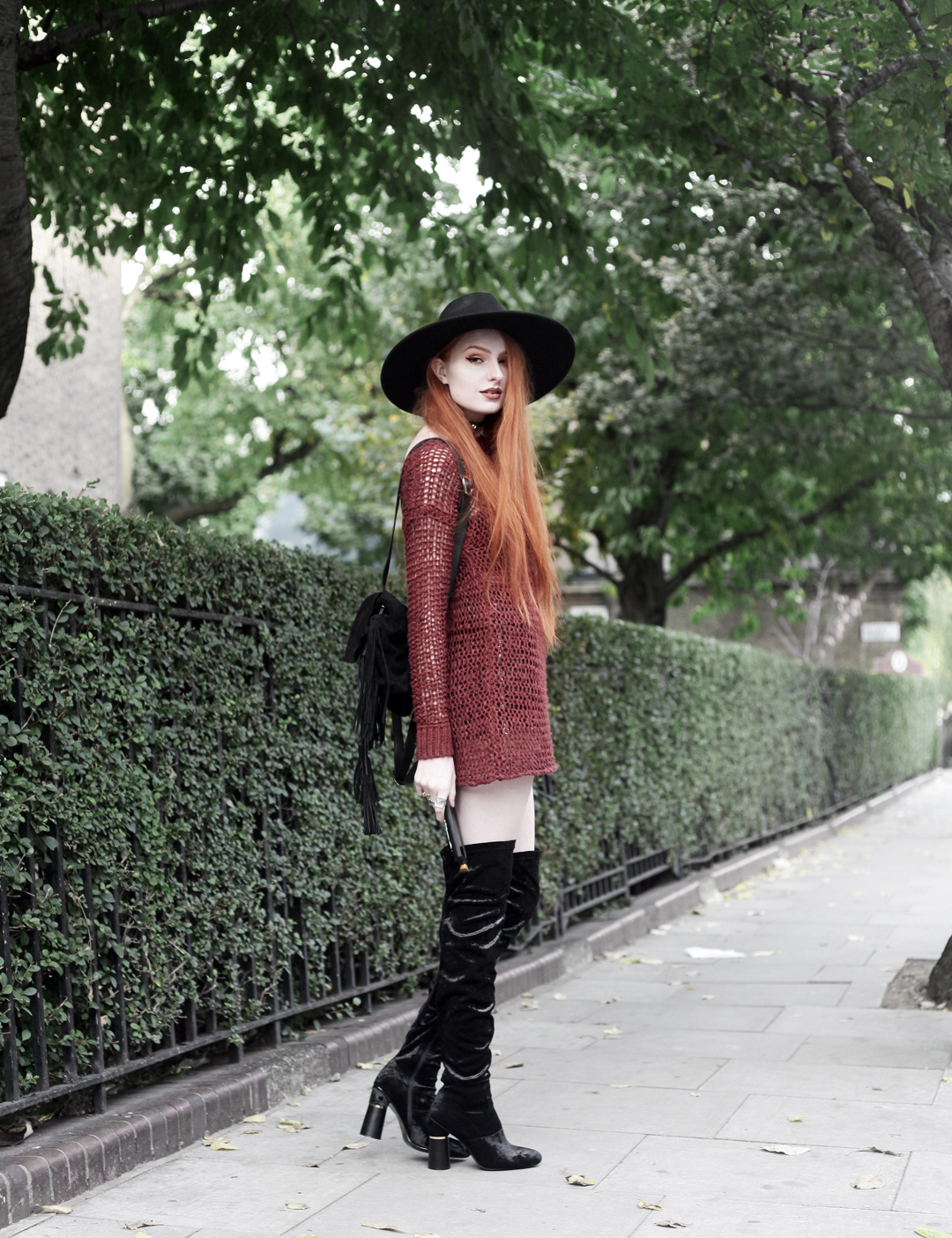 What I'm Wearing:
Witch Brim Fedora Hat* – Killstar (Sold Out – Similar)
Gargoyle Choker – Regal Rose (Sold out but the have a few similar)
Serpent Necklace – Killstar
Open Knit Sweater (as dress) – Unif (super old – really struggling to find similar bits!
Here are some: 1,2 & 3)
Faux Leather Shorts (underneath) – Similar
Fringed Backpack – Similar
Velvet Over the Knee Boots* – EGO (Similar)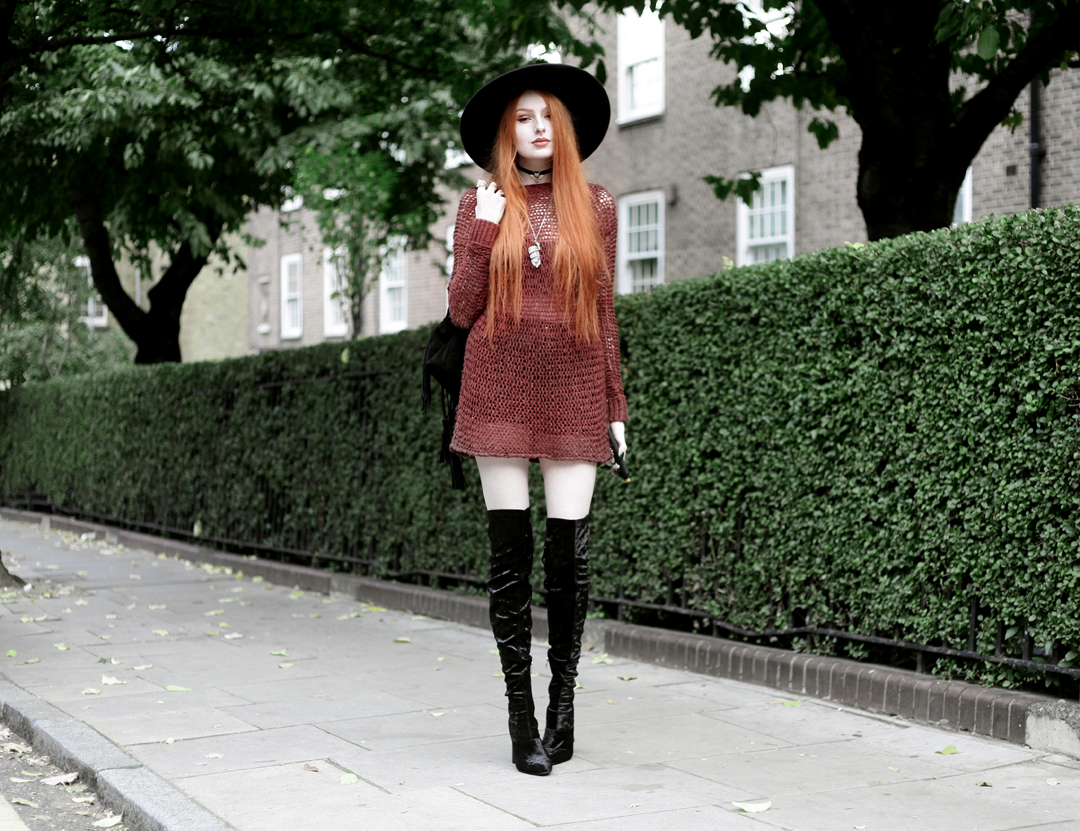 T Minus One Month to Autumn…
As much as I feel like I should be complaining about "British Summer Time' currently consisting of torrential rain and temperatures around a dismal 16°C – it's actually getting me pretty excited for Autumn (or Fall, for you loves across the pond!). It's my favourite season – with Spring a close second – seeing the changes that nature goes through fascinates me each year. And the colours! For someone that loves green as much as I do, I also find the autumnal palette so incredibly inspirational.
It's not that I'm wishing away the summer – when the weather returns to being more seasonal I'll be over the moon… but the current crappy weather is a pleasant reminder that the beauty of Autumn is around the corner! What's your favourite season?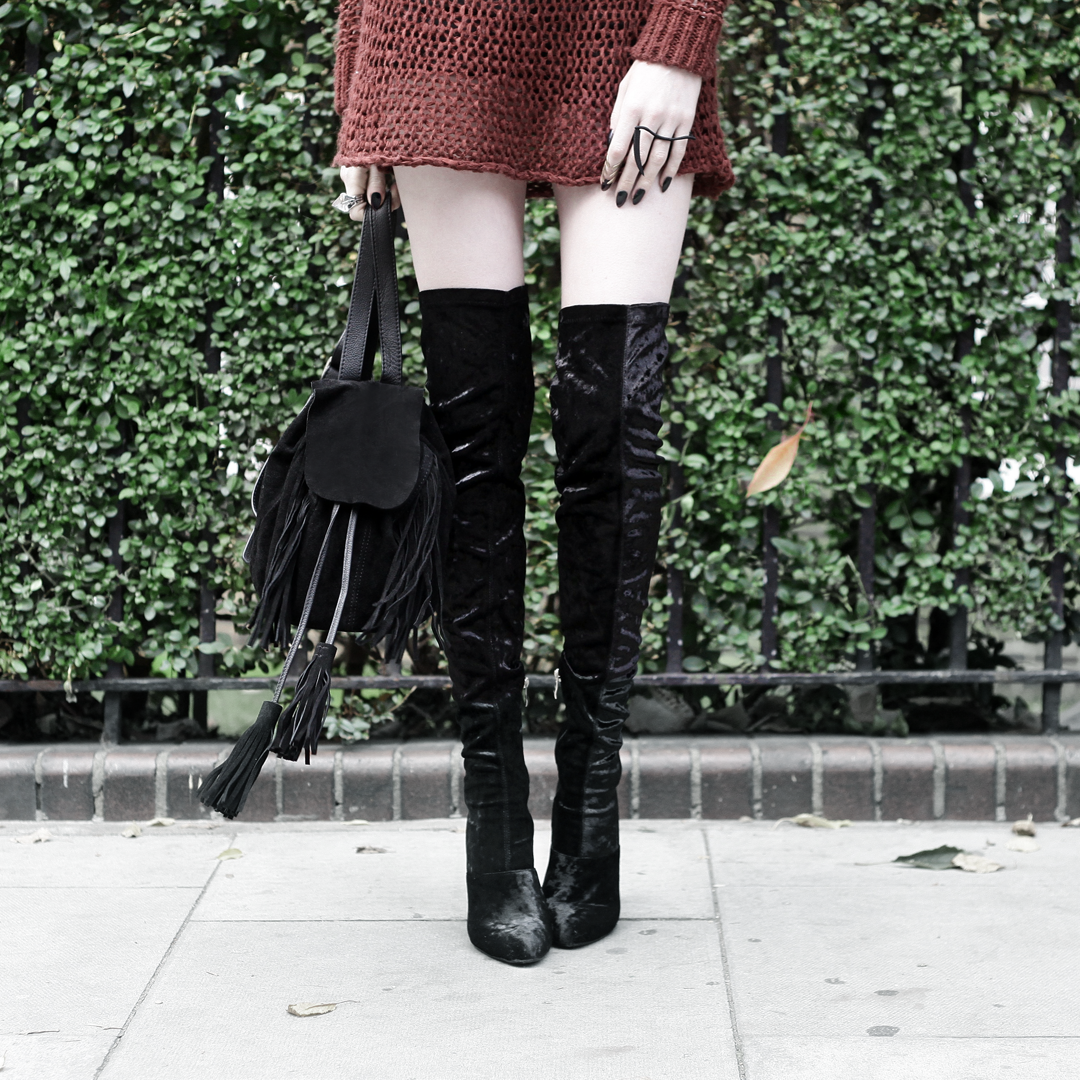 (Matte Black 'Reaper' Scythe Ring* – Rogue & Wolf)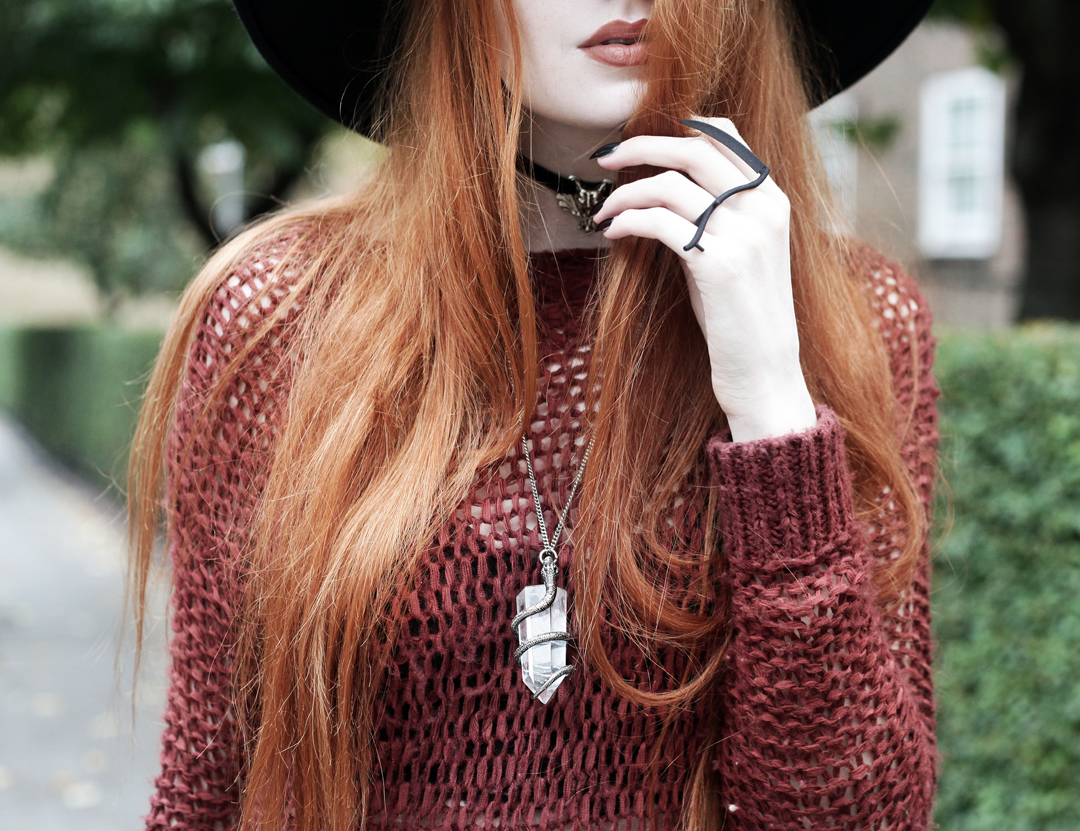 I actually shot these pictures a while ago and completely forgot about them at the time. Once Summer hit they didn't really seem all too weather appropriate so I held back on sharing the outfit with you guys… But bearing in mind the weather's sudden turn, now seems like the perfect time!
I've always been a fan of a slouchy jumper paired with over the knee boots – it's so effortless to put together, but looks like you made an effort. (This is basically the foundation for all my favourite outfits, haha >.<). Here I also added in a mix of soft textures across the velvet, knit and suedette (the bag) to add to the cosy feeling! I didn't wear a jacket on the day, but if I did I'd probably throw on an oversized jacket in a tougher texture, such as leather or waterproof shell.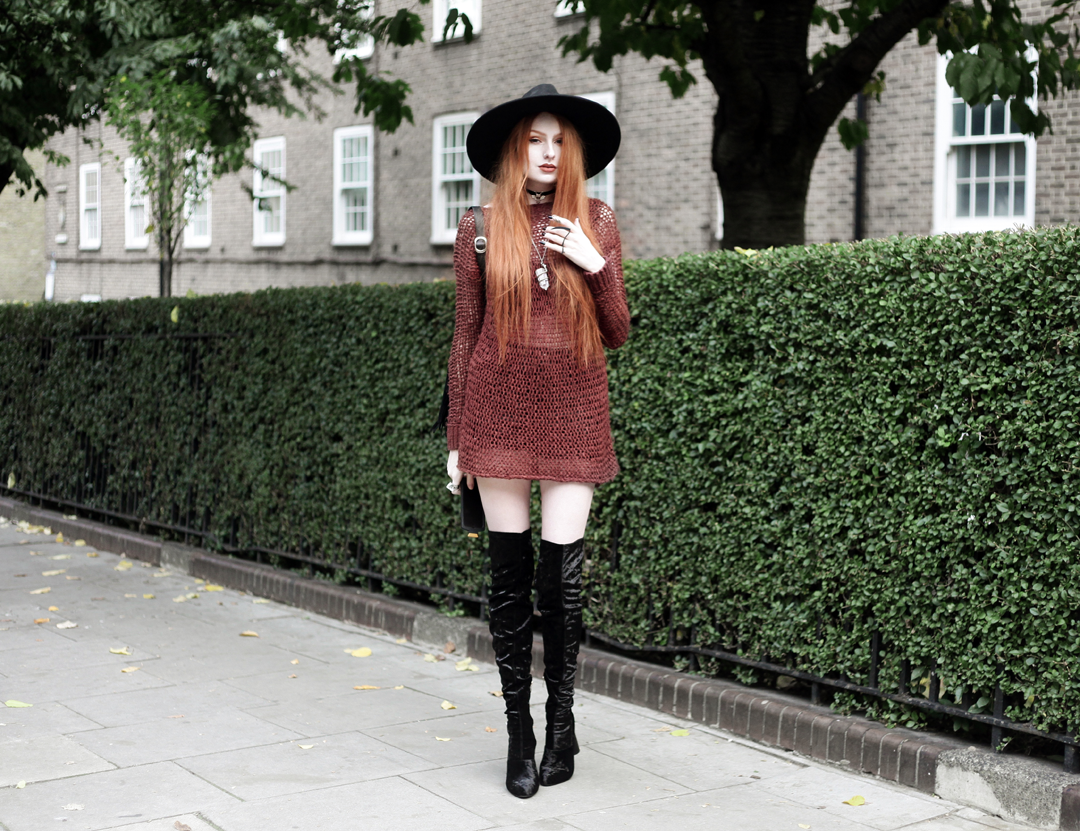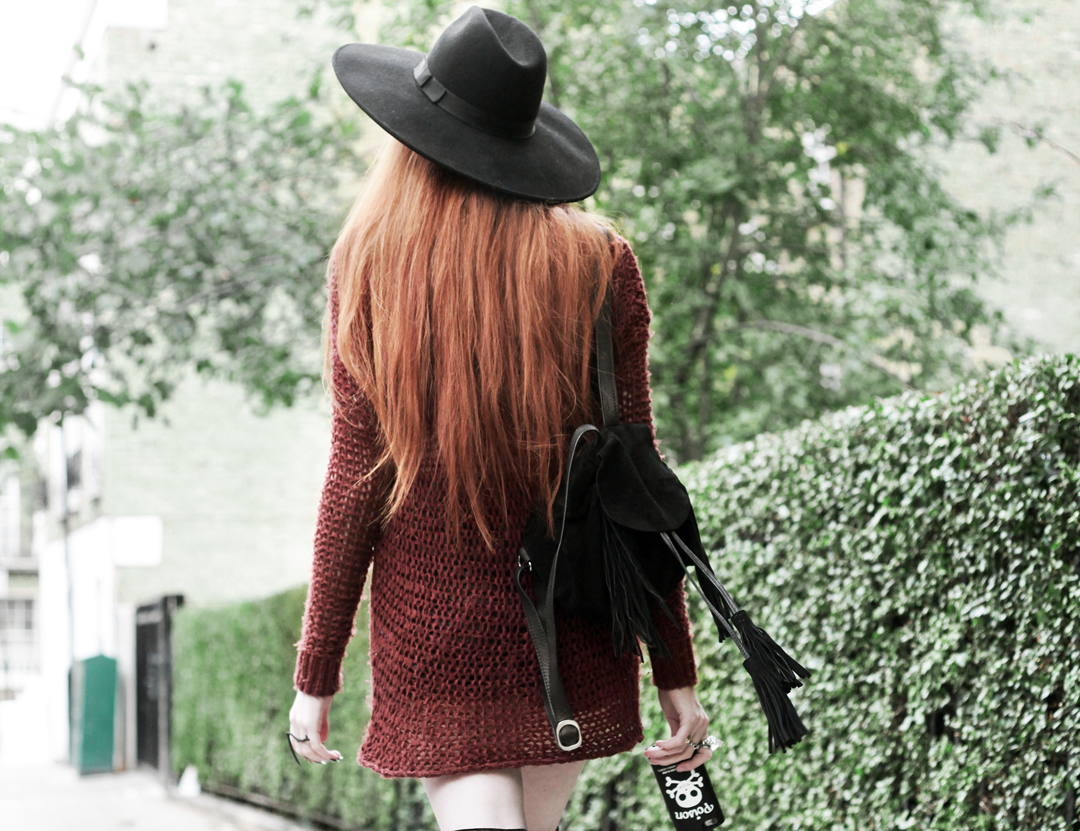 Anyways, that's probably enough rambling from me! I'm supposed to be organising my room today so I should probably stop avoiding that >.<. I might watch some Pixar films in the background while I do it… it's one of those days. I hope your Sunday is more exciting than mine at least!
Thanks so much for stopping by, it means the world <3
Love!xxx