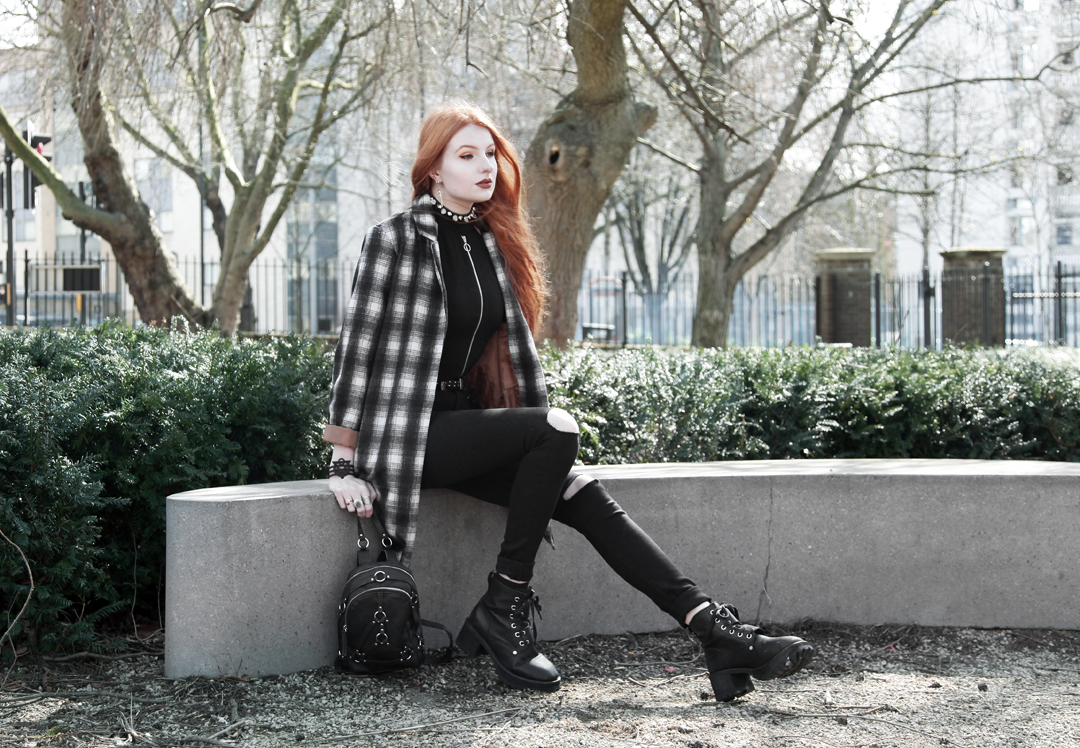 Quartz Crystal & Spike Choker* – Killstar
Plaid Overcoat – Brave Soul (in the Asos sale!)
Zip Up Halter Top – Asos Tall (Normal length here!)
 Studded Western Belt – Asos
Ripped Ridley Jeans – Asos Tall (Regular length)
Matte Black Cuff* – The Rogue + The Wolf
Taupe Faux Leather Cuff* – Fox + Owl 
 Silver Rings* – Regalrose
Matte Black Rings* – The Rogue + The Wolf
Dedi Boots – UNIF (Similar)
Bound Mini Backpack – UNIF (Similar)
While I do wear jeans once or twice a week in day-to-day life, they rarely seem to make it on my blog! Time to change that, eh? I thought I'd share this little casual outfit I threw together earlier in the week featuring some cute bits I got in the Asos sale!
I've fancied this coat for a little while, but I was worried about how much I would wear a patterned coat… however when I saw it available for £21, that was enough to sway me into giving it a chance! The top was a  total bargain at £7.50 (the non-tall version of it is only £6.50 – I guess we tall girls use an extra pound's worth of fabric 😛 ) and is super cute, especially for summer. That said, I do wish it was a little tighter around the waist, so I'll probably end up taking it in – can't complain for under a tenner though!
Have you picked up any good sales bargains recently?
Anyway, I hope you're well, and thanks so much for stopping by to read my blog :3 take care! Love xxx