What I'm Wearing:
Black Wool Cape – Old (Similar)
Black Lace Choker/Neckpiece* – Pheren Couture
White Blouse – Plain Studios
'Kraken' Ring* – Regalrose 
Gold Buckle Belt – Seconhand (Similar)
Black Lace Overskirt – Cut Up Another Skirt (Similar)
White Tulle Skirt – Alexandra Grecco
Black Faux Suede Platform Boots – Old (Similar)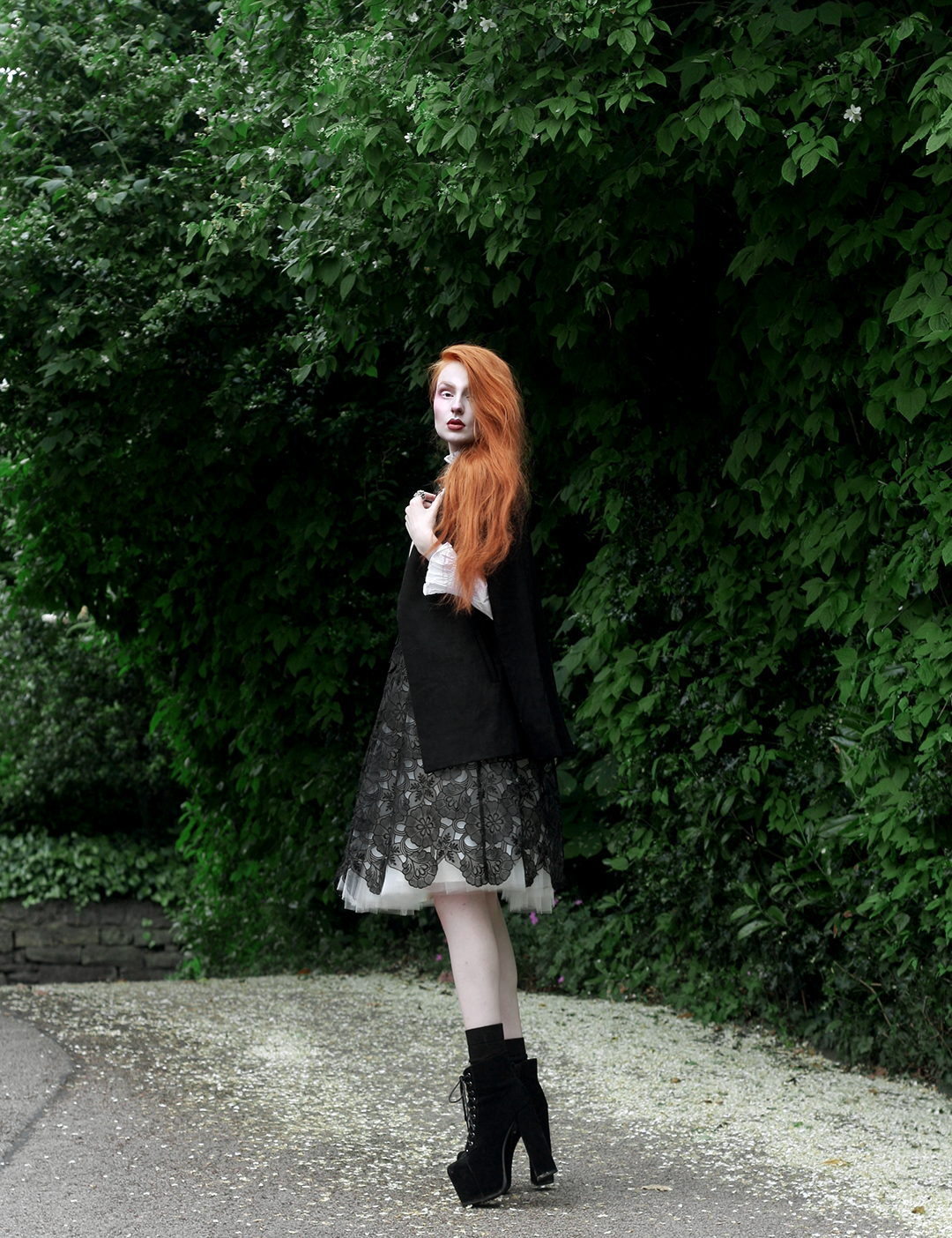 Getting a lil' Spooky…
Okay, so I love Halloween – you probably guessed. Between getting excited about spooky-themed crockery, food & home decor, I also had chance to put some fancy outfits together… This being one of them!
I like to think of it as my attempt to get in to the feeling of the season, but pulling it back enough that it works for a nice meal. (White eyelashes and a mountain of blush isn't too extra for a nice meal, right? For October? Right?! Haha). I've been playing a lot of Bloodborne recently, so the Pale Doll seems to have had some kind of unintentional influence on this look.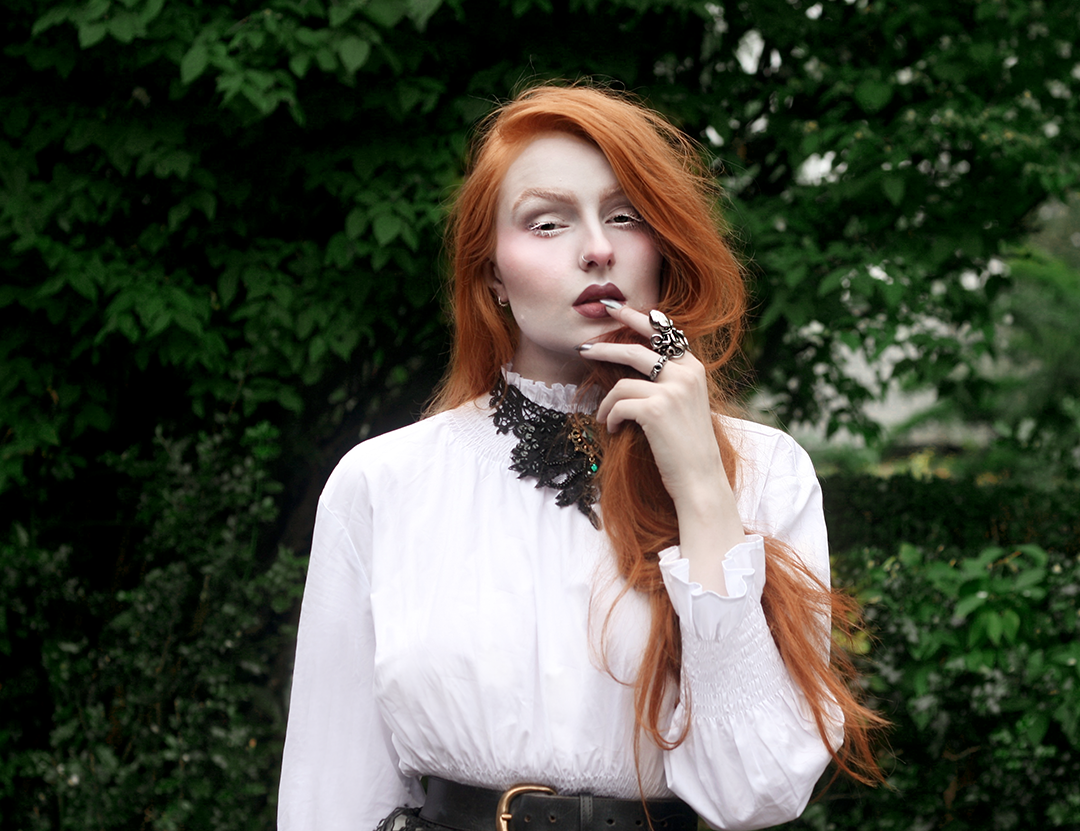 There's definitely some Victorian-style vibes at play here with the high neckline of my blouse & my Pheren Couture Francoise choker, so I added to it with a voluminous skirt. This is actually not one, but two skirts – a lace midi over tulle to create that 'petticoat' feeling. The skirt layering ended up feeling a little bulky, so I cinched in my waist with a belt to get a more Victorian silhouette.
Seven inch platform boots may admittedly be less traditionally Victorian… but DRAMA! As the look was already quite dramatic I also wanted the silhouette to be a bit elongated to counterbalance the volume of the blouse & skirt. And yeah, it wouldn't be me if I didn't have something a bit extra thrown in there 😛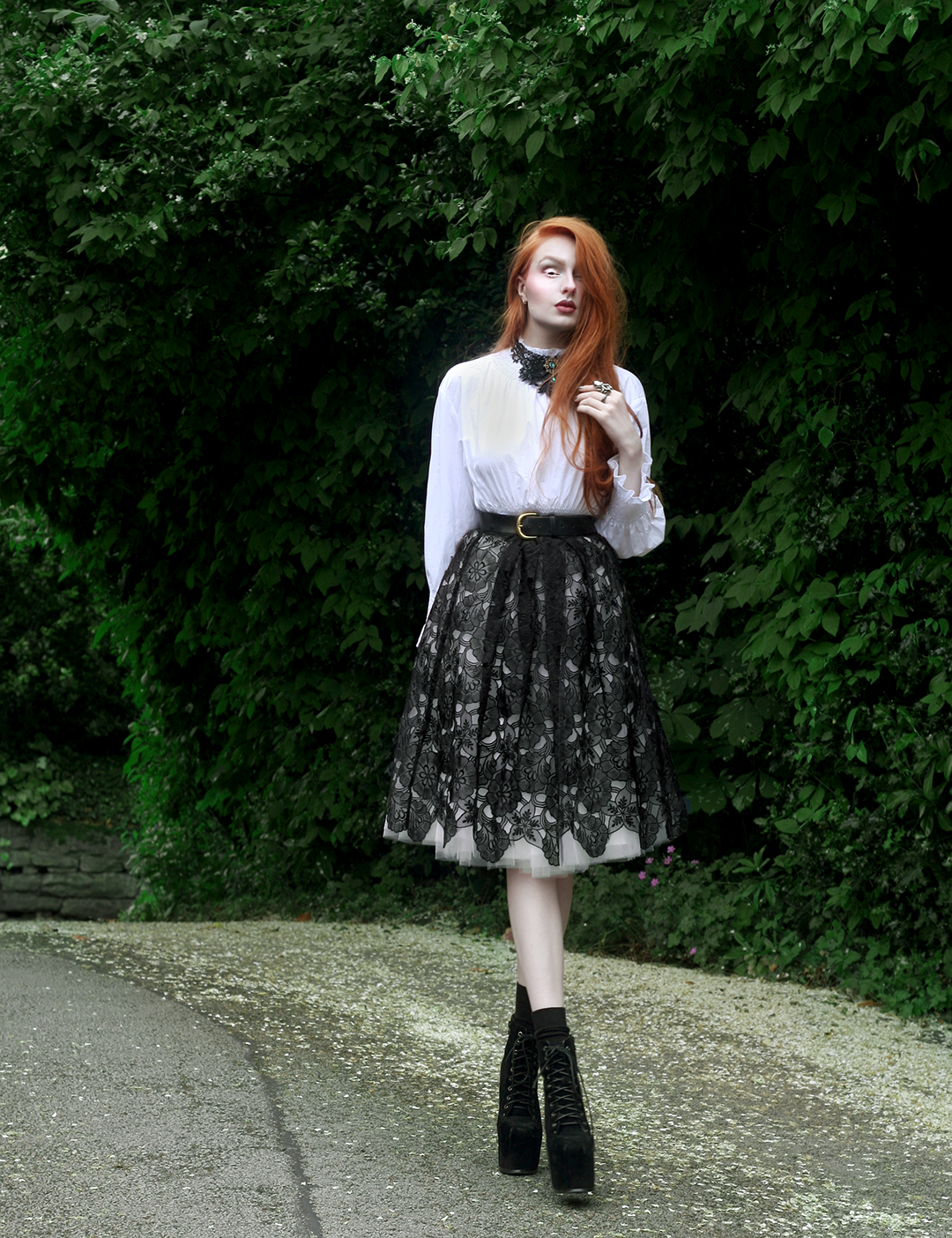 Makeup Details
Illamasqua Foundation (SB02), Contour & Eyeshadow (Sculpting Palette)
Kat Von D Lock It Concealer (White Out) – used on face, lashes & combed through brows
Anastasia Beverley Hills Brow Definer (Auburn)
Kat Von D Everlasting Liquid Lipstick in Lolita
My makeup here was more inspired by Queen Elizabeth – pale as hell. Once I'd added the white eyelashes & combed the white concealer through my eyebrows, it looked like I was coated with a layer of frost. I added blush to my cheeks and tip of my nose to play on that a bit, and also a little shadow to my eyes to give a bit more depth to my face as I was looking a little ghostly.
I hadn't initially planned on going quite so OTT on the blush… but after a hand slip I decided to just roll with it and look a little spooky(-er). It ended up working quite well with the look – yay for happy accidents!
Have you been getting into the Halloween spirit yet? Does it translate into your outfits/makeup, or are you more into spooky food and home decor? (Why not both?! :P) Or are you more excited about winter and Christmas bing around the corner?
Let me know, and have a wonderful day, whatever you are doing! Love xxx