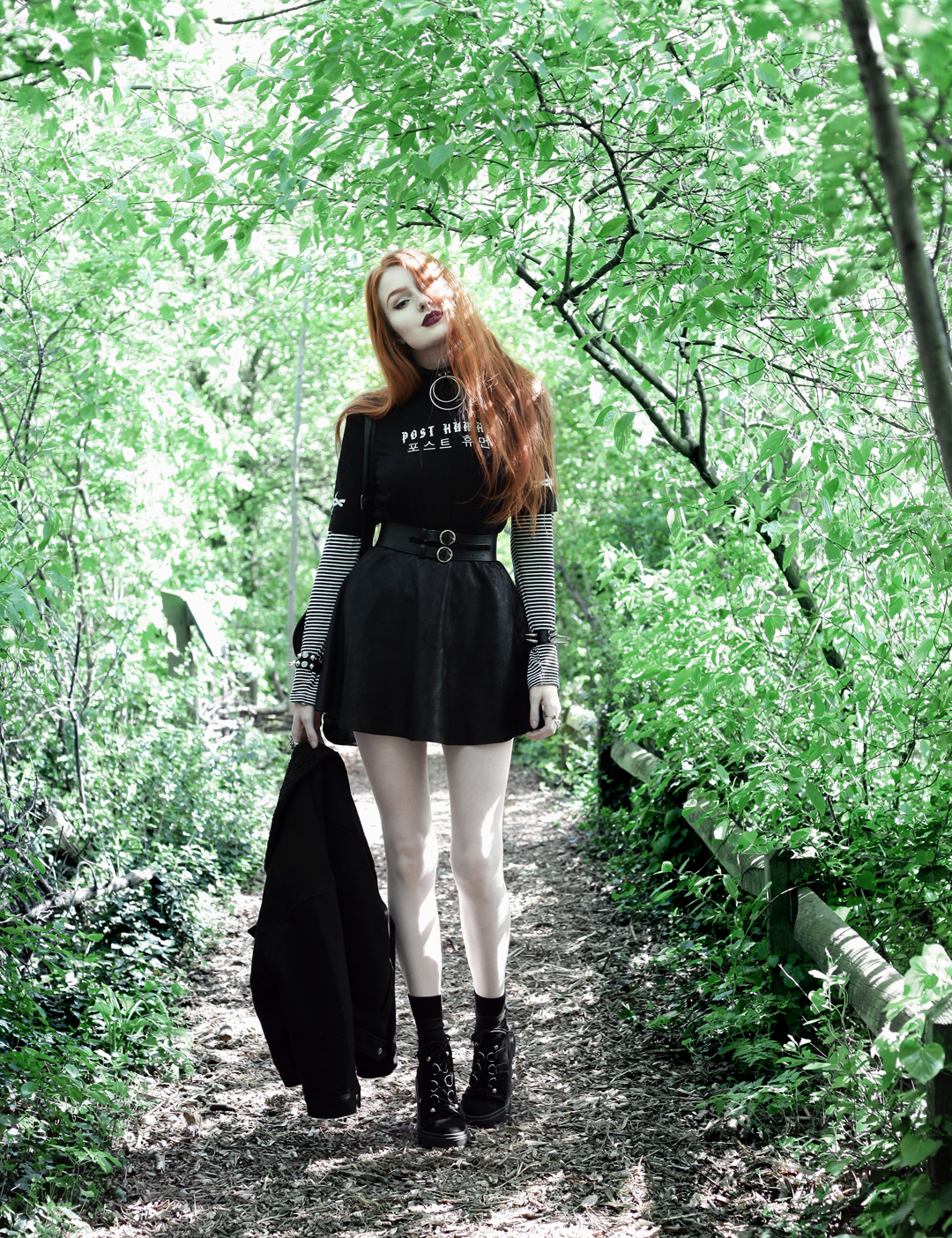 What I'm Wearing
Dita O-Ring Choker* – Killstar
'Post Human' Top* – Mary Wyatt London
Striped Long Sleeve T-Shirt (underneath) – Old (Similar)
Belt (worn backwards) – Zana Bayne (Similar)
Spiked Bracelets – (Quartz & Spikes*) Killstar, (Spiked) old  – similar
Circle Skirt – American Apparel (similar)
Studded Backpack – Rebecca Minkoff (Similar)
Jungle Soundwave Boots* – Underground

Can we talk about the weather for a moment?
Not in a crappy ice-breaker kind of way, more in a 'WHAT IS IT DOING?!' kind of way. It has been so unbelievably changeable of late! And by changeable, I mean in the past hour the weather outside has gone from light rain, to a monsoon of hailstones, to bright sunlight beaming through my window. The temperatures have also been all over the place. When we shot these pictures the other week it was over 20°C, but now it's struggling to get over 10°C!
You might be wondering why I'm still wittering on about the weather – it's not just because I want a good moan (promise!). It's just that because England's weather can be so all over the place, I've really got the knack of putting together outfits that can be changed with the forecast while I'm out and about. It's like I'm a human version of a Castform (obscure Hoenn Pokemon reference, aw yeah)… but hopefully less terrible.

Long Sleeves Layered Under Short Sleeves
One of my go-to layering techniques for this sort of situation is the classic 90's skater pairing of long sleeve tops under short sleeve tees. It's cosy for when it's cold (I also had a jacket in my backpack), but when it gets warm you can just take the short sleeve top off! And if that's still too warm, you just need to find a toilet or changing room to swap to the short sleeve top.
I also love how it can give pieces a completely different feel – for example, the stripes here break up the dark 'block' effect that can happen with all-black outfits. I also find that mesh or fishnet long sleeves work really sweetly for this kind of outfit instead of striped or a contrasting colour sleeve.
I've popped a couple of my top picks for long sleeve & short sleeve pairing below (along with some premade options too) for you to take a peek at if you'd like ^.^

Thanks so much for stopping by to read my blog! Have a wonderful week, take care <3
Love!xxx

Makeup Details
Illamasqua Foundation (SB02) & Contour (Shade – Nimbus)
Anastasia Beverley Hills Brow Definer (Auburn)
Kat Von D Tattoo liner (Trooper) & Limited Edition Metal Matte Palette (Shades – Oak & Bone)
Nars Pure Matte Lipstick (Volga)

(Rare smiling picture in 3… 2… 1…)