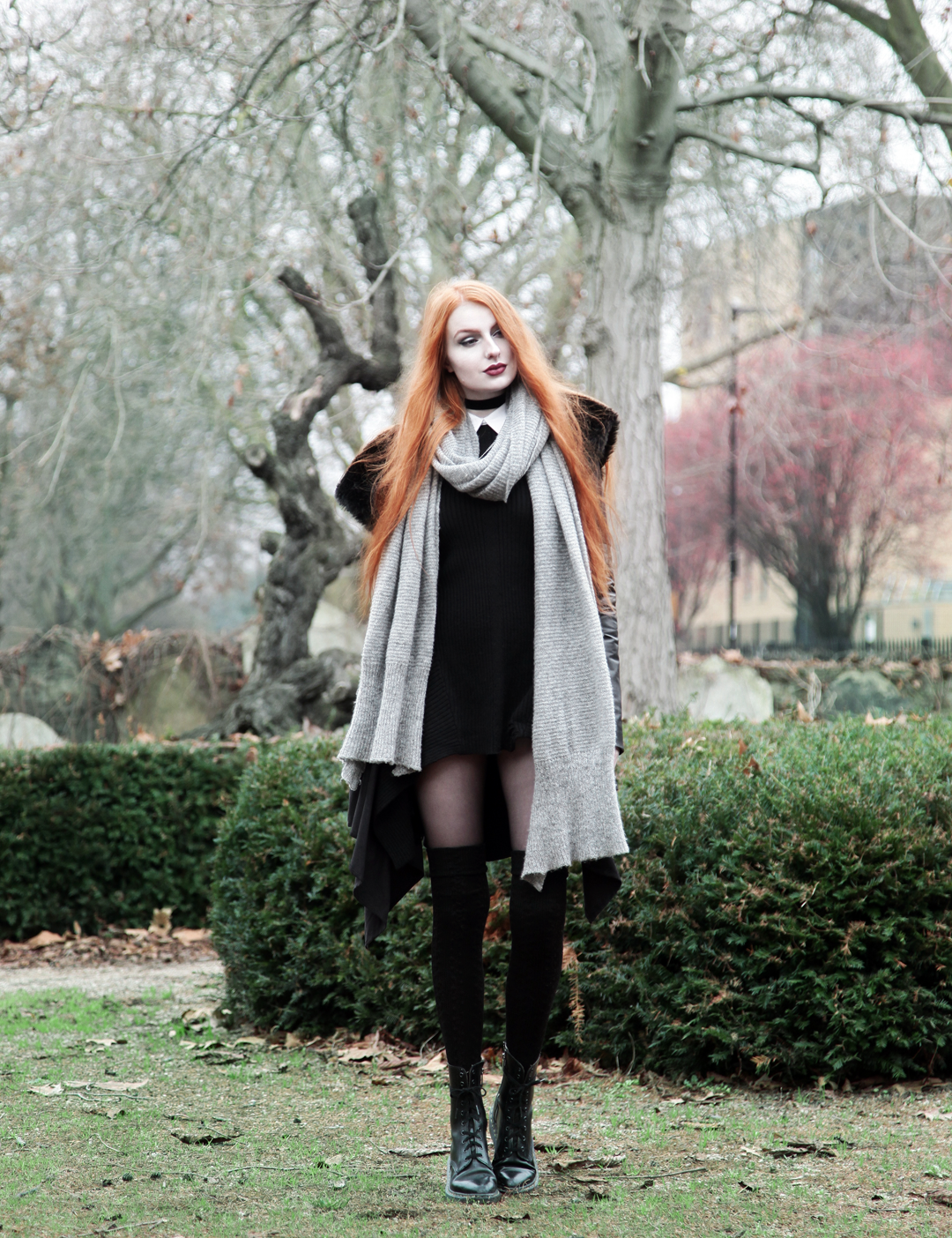 What I'm Wearing:
Black Velvet Choker – Regalrose
Death Note 'L' Necklace
'Asylum' Vegan Suede & Faux Fur Drape Coat* – Church of Sanctus
Oversized Grey Knit Scarf – Asos
'Hellda' Black Knit Dress* – Killstar
Sheer Tights – Topshop
 Knit Over The Knee Socks – Asos
Pointed Toe 10-Eye Boots – Dr. Martens
Knits on Knit on Knits…
I have been living in swathes of knit recently. London has finally started to get colder, so it's finally time to start bundling up! This giant scarf is certainly my most worn piece of the moment as it's so huge, it's incredibly cosy – and it's definitely a necessary comfort blanket for my 7am trip to work >.<. When paired with my Killstar black knit dress, it makes me feel like I should be a student at Hogwarts or something (before being sorted, of course!)
(…I've now said 'knit' so many times that it has stopped sounding like a word ? sorry guys! ? )
The eagle-eyed anime fans amongst you may also notice that I'm wearing an 'L' necklace. It came free with my Death Note Notebook, and I'm pretty damn obsessed with it – it's become one of my go-to necklaces. It also handily works with a  shortened version of my name (Liv/Livi), so it works out pretty perfectly! The silly part is, I don't really use those shortened versions of my name… I just love Death Note! ?
Do you have any clothes or accessories that relate to a franchise that you love? Or do you prefer to collect other related goodies?
Thank you so much for stopping by to read my blog, it really does mean so much! I hope you have a wonderfully relaxing Sunday, and an amazing week!
Take care, love xxx