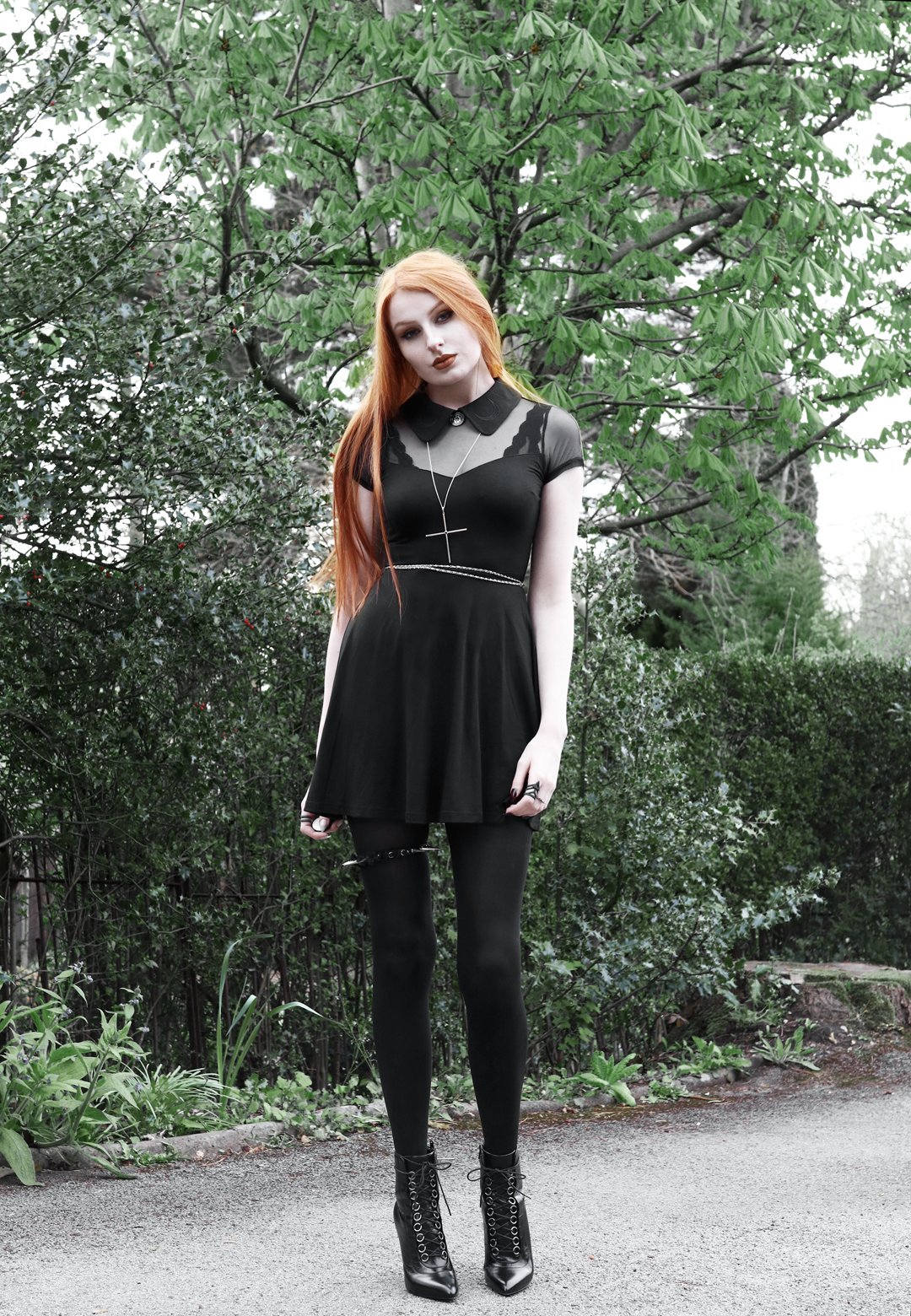 Eyelet Studded Beret – Asos
Moon Phases Pin (worn on collar)* – Nyxturna
Silver 'Classic Cross' Necklace – Kiki Minchin
Dana Mesh Top Dress with crescent moon embroidery* – Killstar
Chain Belt – DIY
Matte Black Rings* – The Rogue and The Wolf
Spiked Silver Ring* – Nyxturna
Garter – DIY
'Fetish' Lace Up Ankle Boots – Saint Laurent 
Over the recent years, my wardrobe has started to become an assortment of old and new, high end and low end. This outfit seems to be a display of all the points from my wardrobe's growth, which is a pretty cool coincidence!
When I was younger my wardrobe was predominately secondhand pieces I'd picked up on the cheap, alongside things I'd been bought as birthday gifts. I'd also make DIY pieces to make exactly what I wanted, like this garter! It was an old spiked headband but I sewed organza flowers to it, shortened it and tied it off to be the right size for my leg. The belt I'm wearing here is also just an old bag chain that I doubled round and clipped in place!
Since I started working I started adding to it with more cute things from the high street/online stores. I've also been incredibly lucky in that I've been able to add more pieces to my closet through being a blogger :3
Recently, I've picked up a couple of staple high-end 'investment pieces' to keep as core parts of my wardrobe. That's not to say I'm in any position to be splashing out full price on these things at all! I don't think I've bought a full price designer piece, well… ever (worst fashion blogger ever? Haha). Sample sales, staff discounts and sale markdowns on staple items are your best friend for getting an awesome deal on high-end pieces. For example, I picked up these Saint Laurent boots at a sample sale for 10% of the original price! They'd obviously been worn by a model but scuffs on the soles aren't really a problem if I'm wearing them. (Yay for bargains!)
What kind of pieces is your wardrobe made up of? Do you have any investment pieces, or anything you are saving for? I'm currently saving for a few out-of-range bits from independent designers (more than deserving of the full price, IMO)
And as a side note – you'll see from the below pictures that I actually started out this outfit wearing my beret. I took it off whilst shooting as I couldn't decide whether it worked with this outfit or not, haha. I was hoping to be giving off some seriously badass Jill Valentine vibes… but I don't think I'll ever be quite that cool >.<
Love!xxx