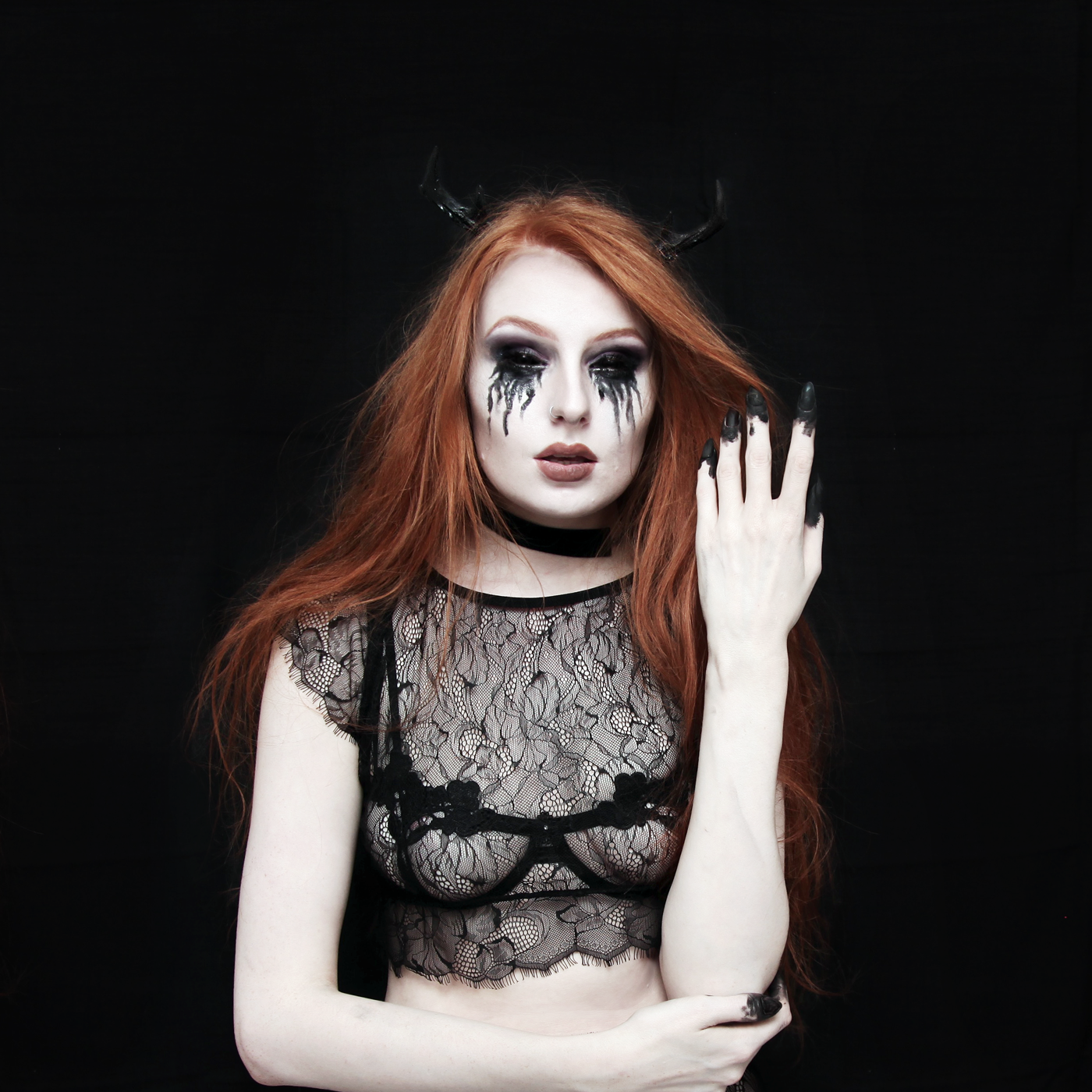 Outfit
Emily Lace Top & Short Set* – Bluebella
Nova Bra (underneath)* – Bluebella
Black Resin Short Antlers – Hysteria Machine
Velvet Choker – Regal Rose
Make-Up
Eyes:
Innerstellar Palette (shadow) – Kat Von D (UK & US)
Black Gloss Lipstick (tears) – old (Similar here)
What's Your Type Mascara – The Balm
Brow Definer in Auburn – Anastasia Beverley Hills
Face:
Hydra Veil Primer – Illamasqua
Skin Base in 02 – Illamasqua
Powder in Intrique (white) – Illamasqua
Sculpting Palette (contour) – Illamasqua
Skin Base Lift Concealer in White Light  – Illamasqua
Lips:
Shroom Velvetine – Lime Crime
Happy Halloween guys!
I hope you're having an amazing one, and that you had an amazing Halloween weekend too!
Just wanted to share with you my Halloween look for this year. I know it's a little lower maintenance the Corpse Bride look I did a few years back, but I am so happy with how it turned out!
In terms of the idea, I went for a demonic/ possession inspired look, with the tears being stains from the pain of the transformation ( because growing horns would not be much fun…). I called it 'The Suffering', which also ties in nicely with the massive amounts of Cohered & Cambria I'e been listening to again recently.
On to the Details!
I used this gorgeous Bluebella sleepwear set for the look as I was thinking along the lines of sleepwear, because in horror movies the possessed is often confined to bed à la 'The Exorcist'. Though to be honest, I will take any excuse I get to wear this set – it's beautiful quality, and gorgeously made with a zip closure on both the top and shorts (always seems more fancy to me, haha). You'll definitely see this top crop up in more outfits, though maybe with a bra that offers more coverage. Here I added the lovely Nova bra underneath to keep it a little more Instagram nipple-rule compliant, but it's definitely more of a bedroom piece… But hey, as was saying in my last post – if you can't wear more risqué pieces at Halloween, then when can you?!
I picked up the antlers for £14 from Hysteria Machine. I was still a bit unsure on my costume until I saw these – the moment I laid eyes on them everything seemed to 'click', and everything I wanted this look to be suddenly became crystal clear to me. Speaking of Hysteria Machine, they make the dost wondrous fantasy headpieces – I've been following them forever on instagram, and suggest you do too. They're seriously drool-worthy!
For the makeup, I have listed all the products above – I'm hoping that most of this is quite self-explanatory as I'm still pretty new to makeup! I did my base makeup as normal, but a bit more generous on the white concealer and powder on highlight points, before contouring with the grey colour from the Illamasqua sculpting palette.
For the eyes, I started with a smokey eye using the purples, greys & blacks from the KVD Innerstellar palette. Then I added the black gloss as a liner on my lids (not on the waterline!!) and up to the outer corners, before adding in the tears. I also added some black face paint to the tips of my fingers for extra cursed-y-ness!
What did you guys do for Halloween this year? If you blogged your costume, share a link – I'd love to check them out!
Love!xxx