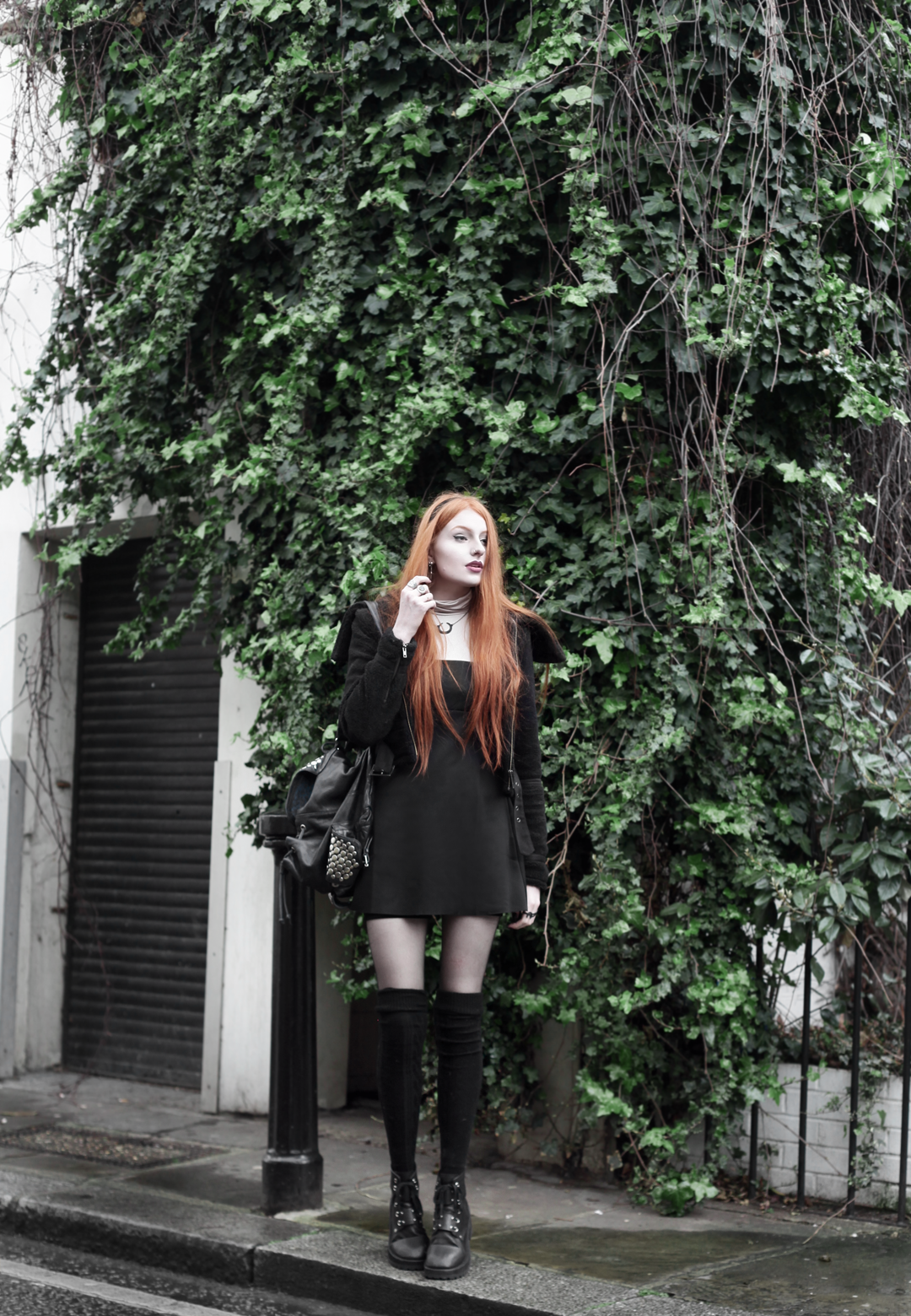 What I'm Wearing
Headband – Asos scarf or similar here
Matte Black 'Eclipse' Necklace – The Rogue + The Wolf
Aviator style 'Jane' Jacket* – Killstar
Monki Turtleneck Shimmer Top – Asos
A-line Babydoll Dress – Asos (similar)
Knee High Socks – Asos
Dedi Boots – UNIF (Similar)
Inspired by Alice
Recently I came across my copy of Alice's Adventures in Wonderland – it's a dog-earred copy, with the spine broken in several places, and wobbly pages from spills here and there… all the hallmarks of a well-loved childhood book. It's the kind of book that I find myself returning to again and again and finding something new each time, be it an observation, quote, or style inspiration.
Subtle little Alice inspirations made their way into this outfit. I layered an A-line dress over a top for a pinafore-esque effect, and added an 'Alice band' (a British word for headband which dates back to the times of Carroll's novels – sweet right?)
You've probably noticed that while drawing inspiration I kept within my usual colour palette (i.e. very little colour), shying away from the blue of Disney's Alice, or pastel yellow of the early coloured illustrations. I know, I'm predictable, a lack of colour is my comfort blanket! I hope the connection is still visible though.
Do you find yourself drawing style inspiration from books? If so, which has been the most influential?
Thank you so much for stopping by to read my blog, it really does mean the world!
Take care, and have a great week 🙂 Love!xxx